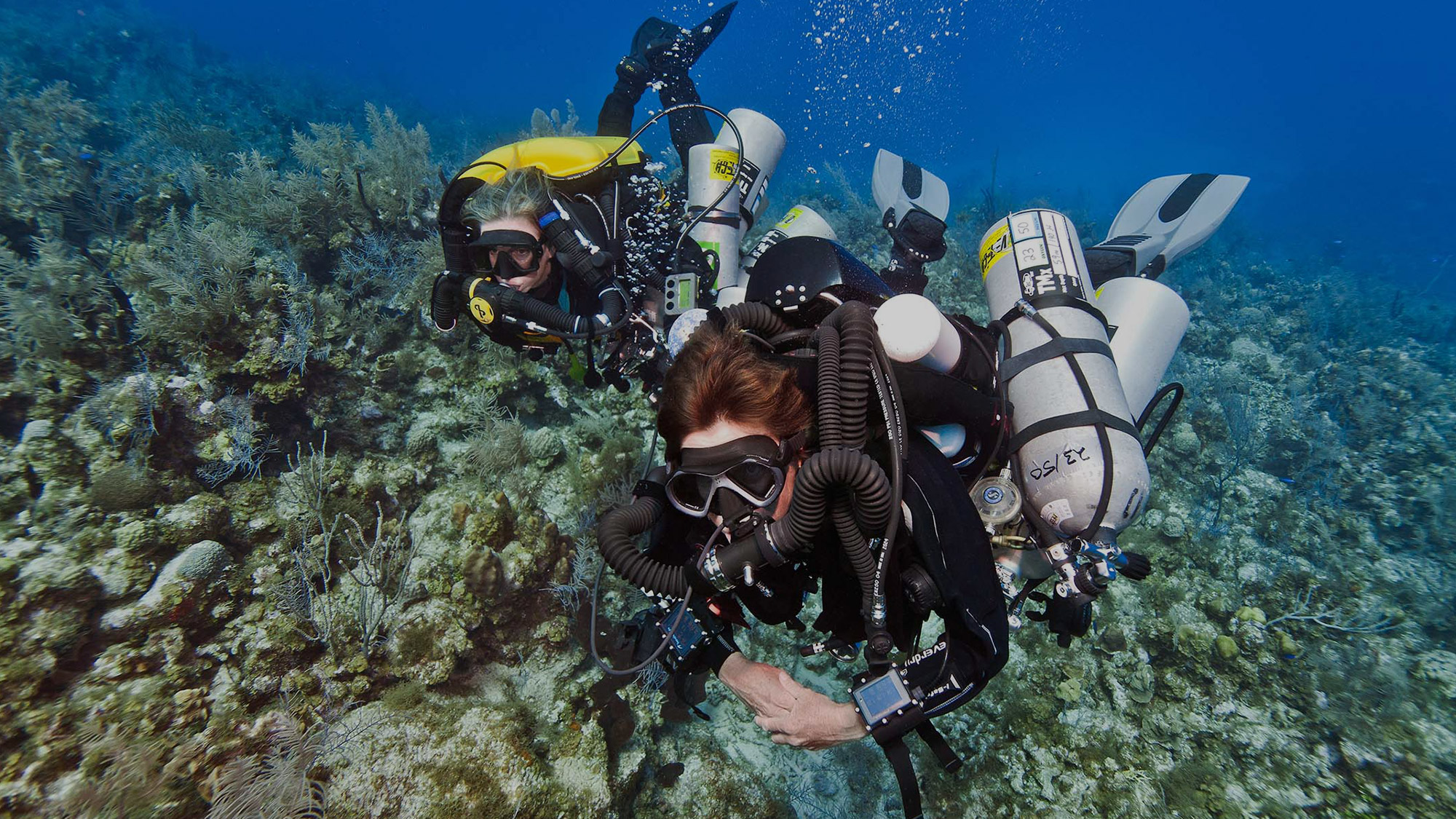 Technical Diving allows you to extend your diving beyond recreational "no stop" limits. This allows you to plan longer dives at shallow depths, or to plan dives to more advanced depths and locations. Technical (tec) diving allows you to greatly expand your diving skills and knowledge and can provide you with experiences and exploration opportunities in places very few people will ever see:
Increased Range - Exploring deeper than 40 metres/130 feet
Increased Diving Environments - Diving in  caves, shipwrecks or other special environments 
Increased Skills - Using specialized gas mixtures  and decompression procedures
Specialized Equipment - Using highly specialized equipment, like a closed or semi-closed circuit rebreather
Deeper Diving, Rebreather Diving and More
Tec diving attracts experienced divers who want to go places other divers cannot. These types of divers usually enjoy a challenge and are willing to focus on technical diving demands. Tec divers are able to visit reefs and wrecks at depths well below the 40 metre/130 foot recreational limit. With further specialized training, they can explore inside wrecks, underwater caves, and other places well beyond the reach of mainstream sport diving.
Give Technical or Rebreather Diving a Try!
Are you curious about technical or recreational rebreather diving? Sign up for a Discover Tec or Discover Rebreather experience. A PADI TecRec Instructor will help you try out tec diving equipment or a rebreather in a pool (or pool-like environment) and show you some basic skills.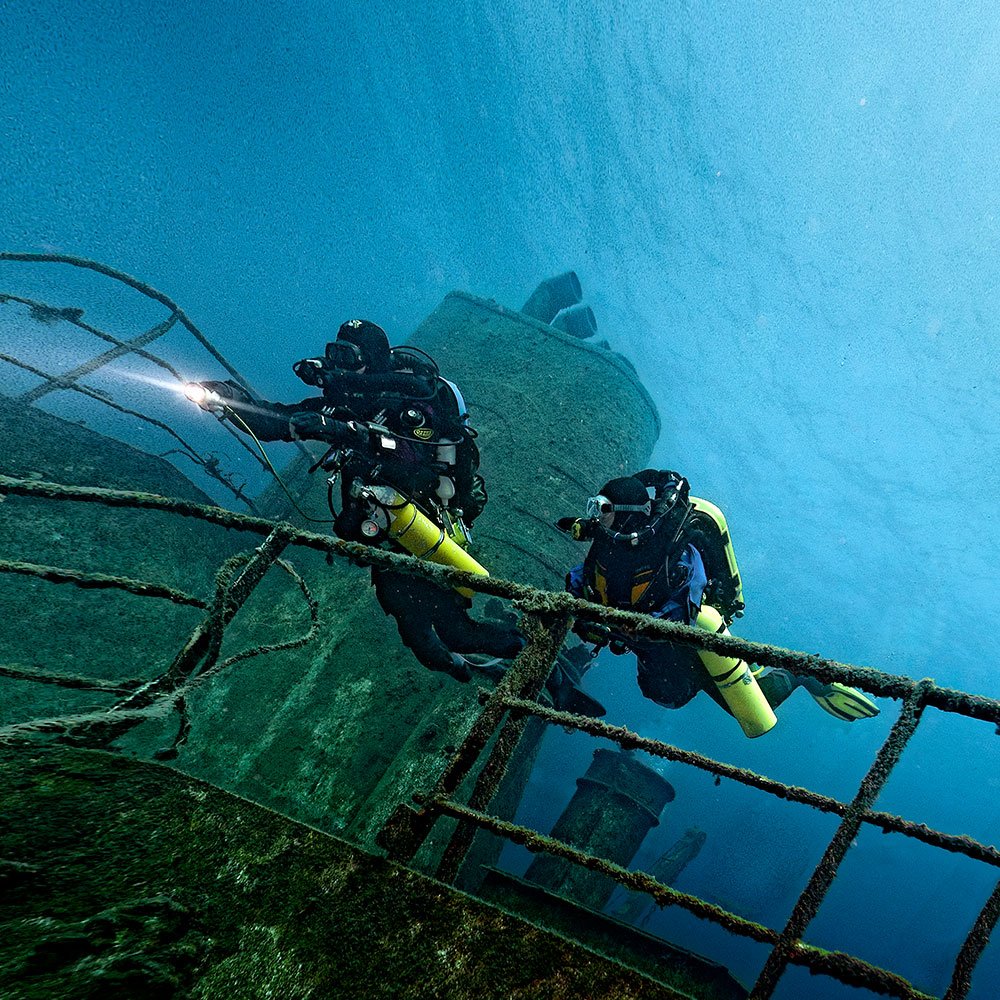 PADI TecRec courses set the bar for technical and rebreather diver training. These courses provide a strong foundation and result in divers who are both confident and competent. TecRec Courses will greatly expand your diving knowledge and skills, and PADI TecRec courses are designed to offer comprehensive and realistic training that is both robust and industry proven. 
As a technical diver you will learn how to manage the risks associated with diving beyond the limits of recreational diving.
Simply put - rebreathers help save and recycle your gas, which allows you to stay much longer underwater. Rebreathers are quiet, so you can get closer to wildlife, and they optimize the oxygen/nitrogen you're breathing. Taking advantage of these benefits requires special training in using these technologies, and each rebreather model has its own special requirements.
Although they are recreational diving courses, PADI's Rebreather and Advanced Rebreather Diver courses fall under the TecRec umbrella because you learn to use closed circuit technology within recreational limits. The Tec CCR (closed circuit rebreather) Diver courses, on the other hand, train you in using CCRs in technical diving, with training available to 100 metres/330 feet. 
Wearing a scuba cylinder on your back works for most diver most of the time, but it's not always the best option. Some recreational and tec divers use sidemount, which repositions the cylinders along your sides under your arms. Sidemount has several advantages including easy cylinder donning and removal, a lower profile (often useful in activities like cave diving) and less need to wear tanks out of the water. Although it appears awkward, it is one of the most streamlined and comfortable ways to dive. 
Teach technical diving by becoming a TecRec Instructor
There are many instructor ratings you can apply for to teach TecRec courses. These ratings have/require different applications and experience, please contact your PADI Regional Headquarters for more information. Read more below on specific courses a Tec instructor can teach.
More Information
Tec diving and rebreather questions, answered
Keep Reading
Learn more about technical diving with tips and stories from our divers.