The best wet/dry accessories from the 2020 Scuba Diving magazine Gear Buyers Guide. 
These scuba accessories will help you enjoy your dive, no matter what. From neoprene dive boots to breathable undergarments and heated vests, find the accessory that is right for you in the Scuba Diving magazine Gear Buyers Guide. 
AKONA SECO BOOT  

Tiny holes in the sole of the Seco start draining as soon you exit the water after a dive, ending the annoying sloshing steps and sagging fit of other neoprene boots. These self-draining neoprene boots feature long zippers for easy donning and doffing. A thick nonslip sole protects the bottom of your feet while walking over difficult terrain, and panels on the ankle and top of the foot provide additional resistance to wear and tear. The Seco is available in men's and women's sizes in 3.5 mm or 6 mm thickness.
akona.com | $58  

AQUA LUNG SUPERZIP BOOT
These neoprene boots feature a treaded 8 mm sole to protect against punctures, stings and slips. For additional protection and security, extra-thick panels cover the top of the foot, toe and heel cap. A heavy-duty, non-corroding zipper is used for long-term durability. The shaped footbed and outsole match the profile of the foot to prevent excess water retention and to provide better support. The Superzip is available in sizes 3 to 14 in 3 mm, 5 mm and 7 mm thickness. 
aqualung.com | $57(3mm),$58(5mm),$59(7mm)    

APEKS P-VALVE

Machined from solid Delrin, this high-flow-rate P-valve provides drysuit divers with relief during long dives and has one of the fastest flow rates of any P-valve on the market. It is balanced to reduce backpressure and uses chemical-resistant tubing. It is supplied with a quick disconnect for added convenience. The low-profile design features a rubber outer grip for easy operation when wearing gloves. The kit contains a rubber backing patch, stainless-steel fitting tool and instruction manual.  
apeksdiving.com | $160  
 

BARE EXOWEAR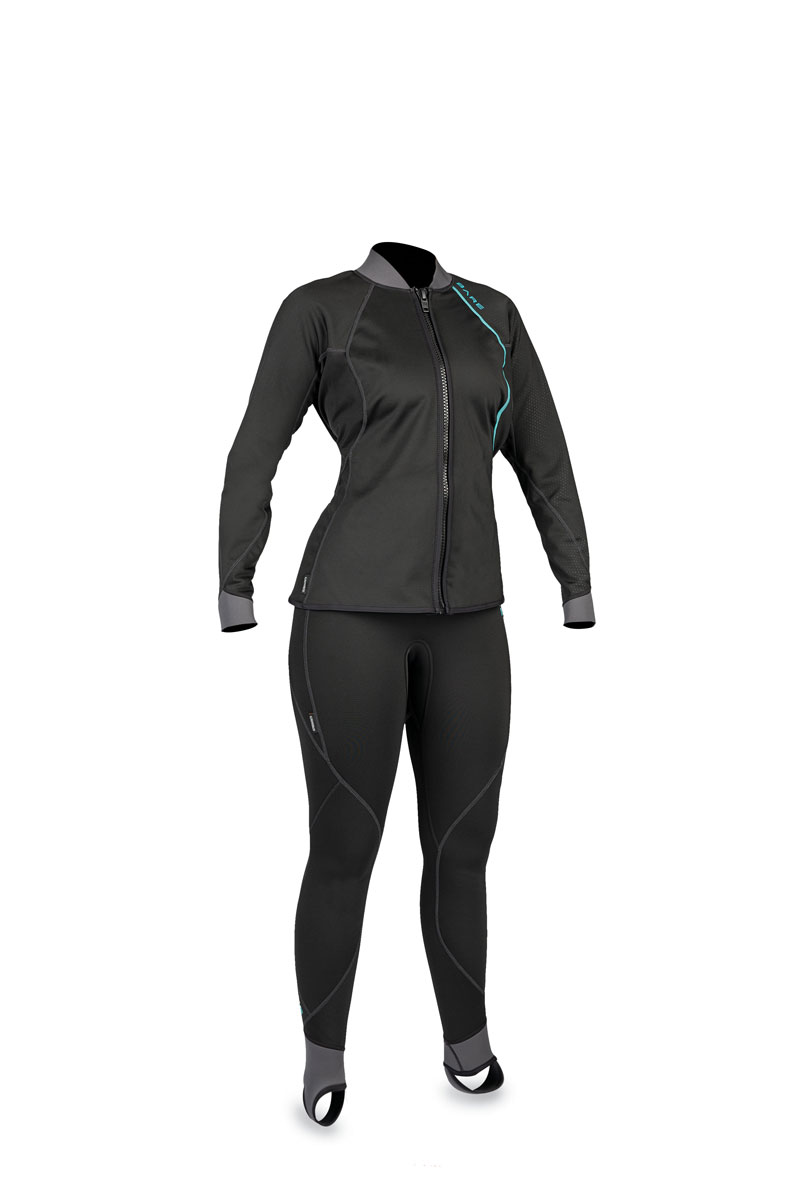 The advanced three-layer fabric in ExoWear garments is flexible, windproof, breathable and quick-drying for versatile thermal protection for scuba diving or any other watersport. Suitable for stand-alone use or layered with other garments, ExoWear is lined with a soft, warming inner fleece that wicks moisture from the body, dries quickly and fights stains and odors. ExoWear is available in men's and women's full suit, tops, bottoms, hoods and other garments.   
baresports.com | Starting at $39.95  
  

FOURTH ELEMENT HALO AR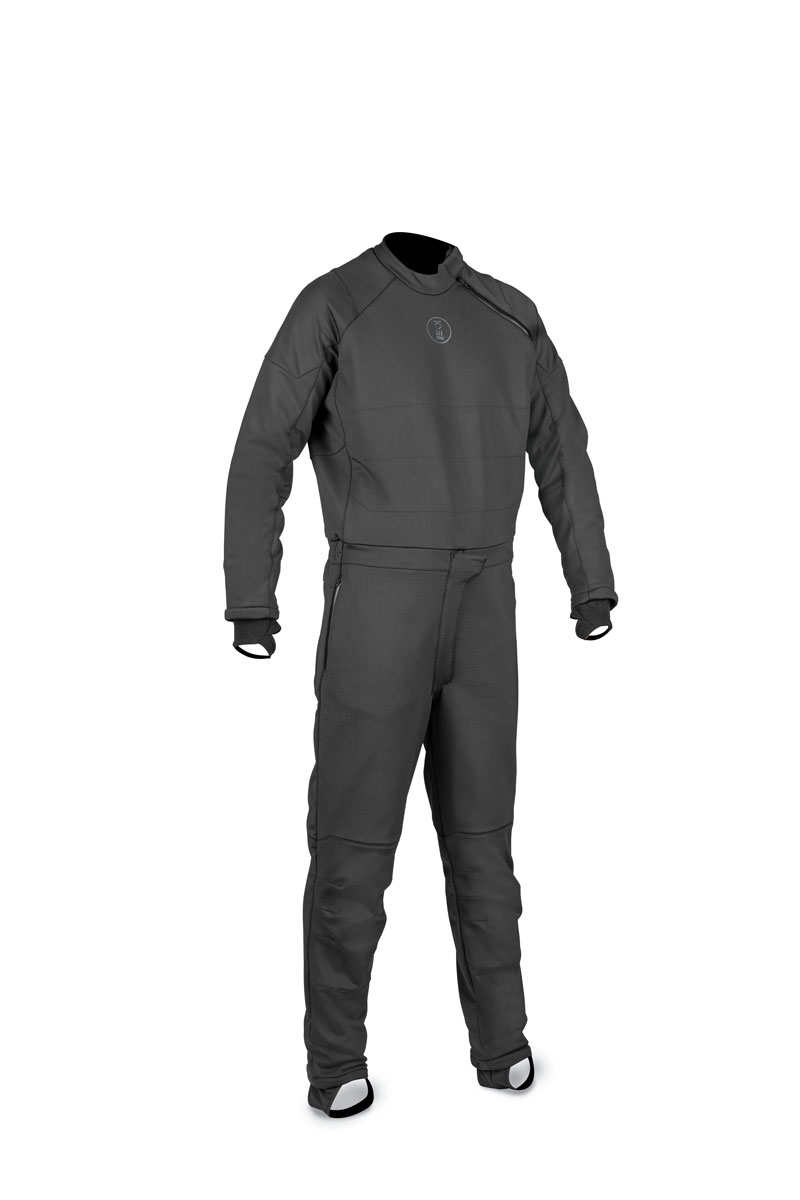 Made with A°RGON, a low-conductivity material used in space exploration, the compression-resistant Halo undergarment provides incredible insulation without adding bulk or excessive buoyancy. An offset chest zip and baffles minimize heat loss from the torso when in horizontal trim to further enhance the suit's warmth. Comfortable thumb loops and stirrups assist in donning and doffing. The stretch outer layer is wind- and water-repellent.  
fourthelement.com | $629  

IST SPORTS FREEDIVING BOAT SOCKS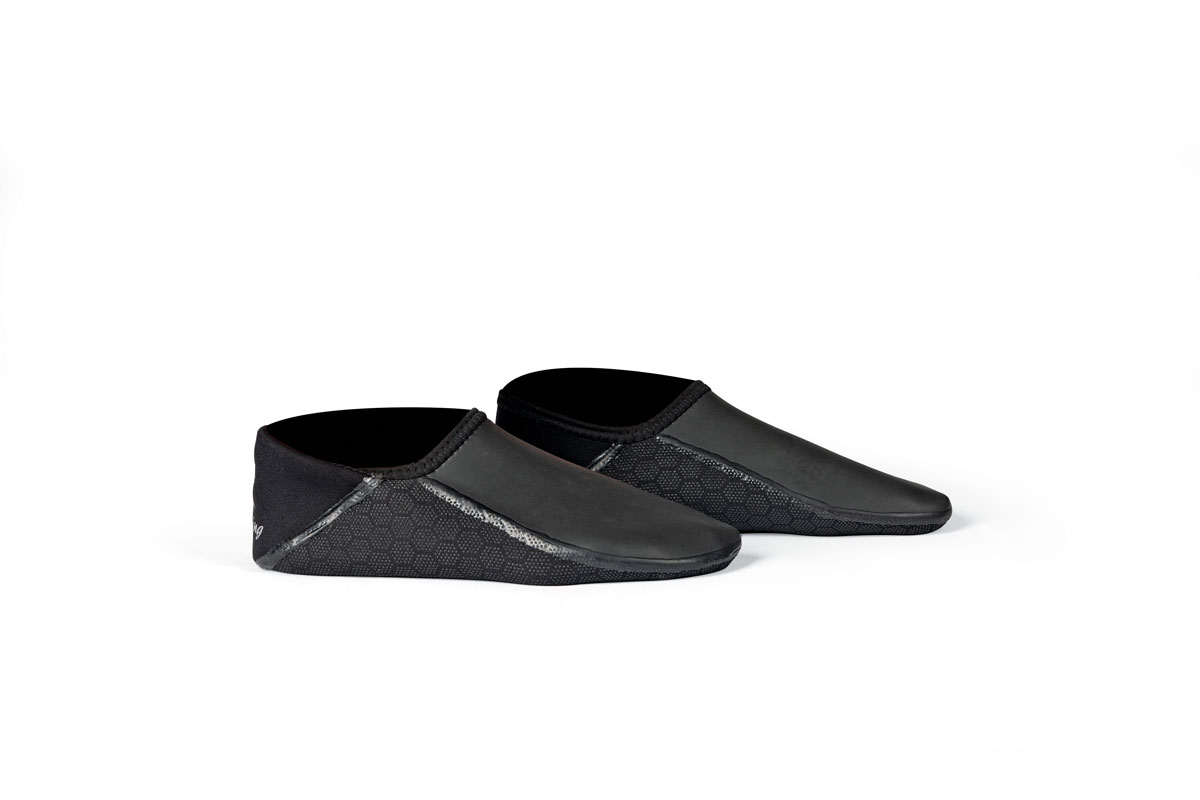 With a plush, fleecy lining, these boat socks are as comfortable as bedroom slippers—but a lot tougher. Designed for use under full-foot freediving fins, they work as a liner inside any fin for warmth and to prevent chafing or blisters. The non-slip sole and neoprene insulation make them great for use on a boat to keep your feet warm and protected.
istdivingsystem.com | $32
 

SCUBAPRO BASE DIVE BOOT 4 MM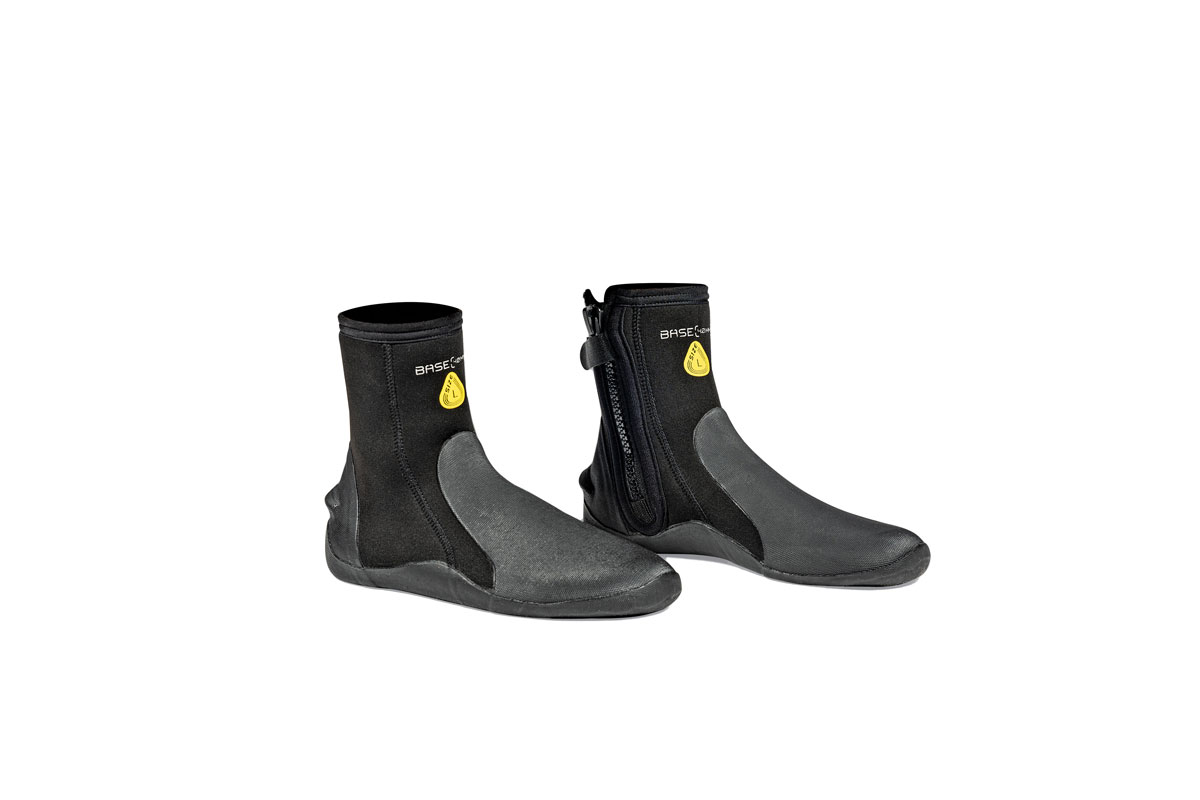 Made for use in cooler waters, these boots are made of 4 mm neoprene. Rubberized armor on the top of the foot, toe cap and heel provide protection without sacrificing comfort. The heel pad features a fin-strap retainer, and a gusset zipper provides durability and comfort. Thin soles increase flexibility and provide an effective anti-slip tread, and a new color-coded logo differentiates sizes.  
scubapro.com | $55  
 

SCUBAPRO HYBRID SOCKS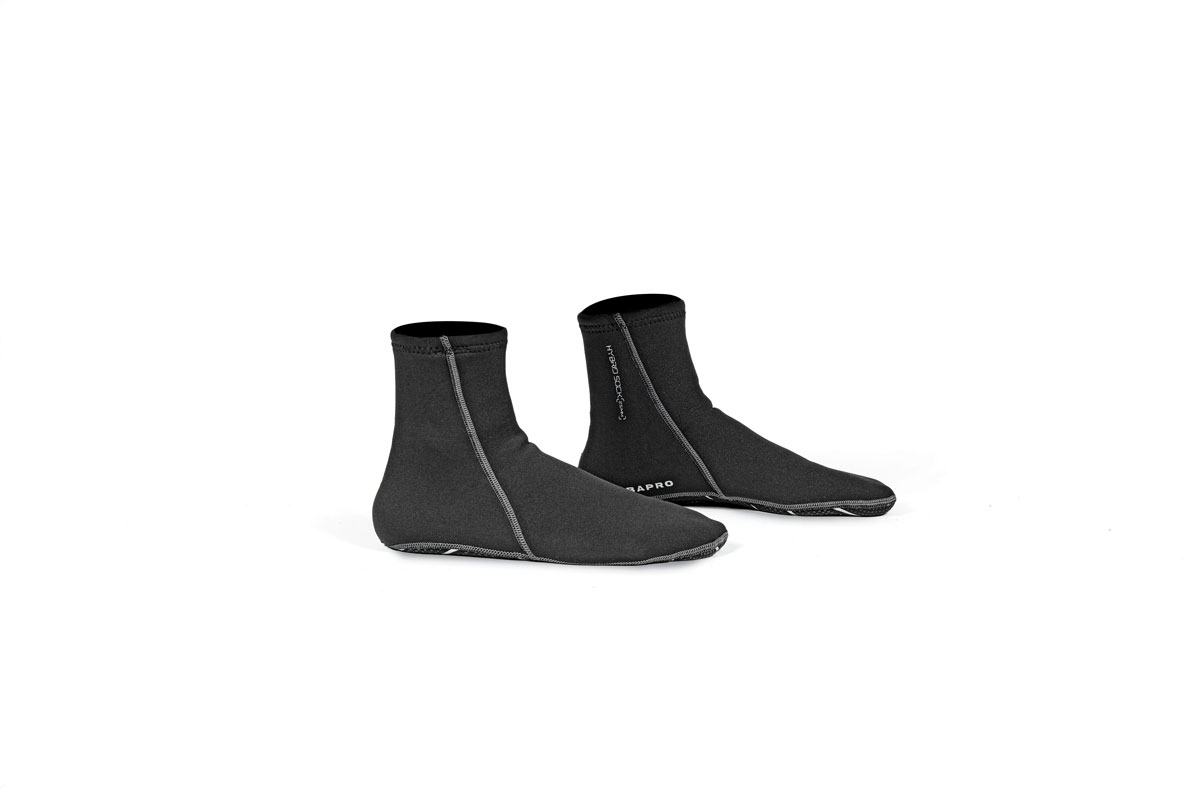 These dive socks are made from a 2.5 mm limestone-based neoprene. Everflex neoprene with a plush interior lining provides warmth, comfort and easy donning and doffing. A thin textured sole provides light nonslip protection. These socks can be used for added warmth or as a liner inside a full-foot fin. They can also be worn on a chilly boat deck during a surface interval.
scubapro.com | $38  
 

LAVACORE LONG-SLEEVE TOP  

This versatile multisport top provides thermal protection for your core. It can be worn alone in mild conditions or layered beneath a wetsuit as temperatures drop. A fleece lining provides warmth and wicks moisture away from the body. Flexible merino-lined material under the arms improves comfort and breathability. The flexible outer layer is water repellant and windproof.
lavacoreinternational.com | $129.95  
  

PINNACLE INFERNO FZ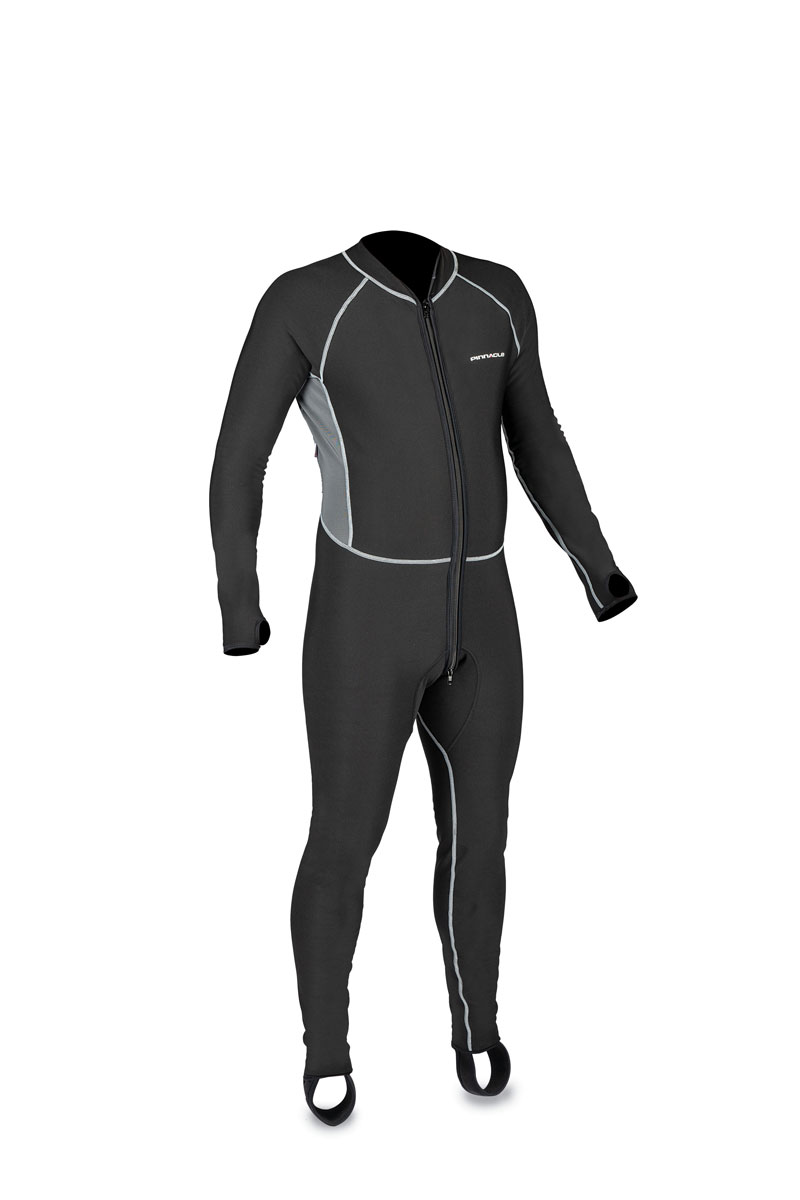 The Inferno FZ is made of a triple-laminated material that provides thermal protection without adding buoyancy. Merino wool lining in the torso helps warm the body's core, while a breathable membrane adds wind resistance out of the water. A high-stretch Lycra outer layer provides flexibility and allows for a natural range of motion. The front zip and handy thumb and heel loops make for quick and easy self-donning. It can be worn alone, or under a drysuit or wetsuit.  
pinnacleaquatics.com | $279.95
 

SCUBAPRO K2 EXTREME  

Designed for drysuit diving, this one-piece suit is made from a high- stretch breathable dual-fleece material designed to maintain maximum warmth while allowing unwanted moisture to escape. It has compression padding at the shoulders, chest and knees for comfort and protection. Elastic wrist loops and heel straps help avoid ride-up and make for easy donning. Secure zippered hip pockets are useful for keeping small items close at hand.  
scubapro.com | $339  

VENTURE HEAT 40-WATT HEATED UNDERSUIT PRO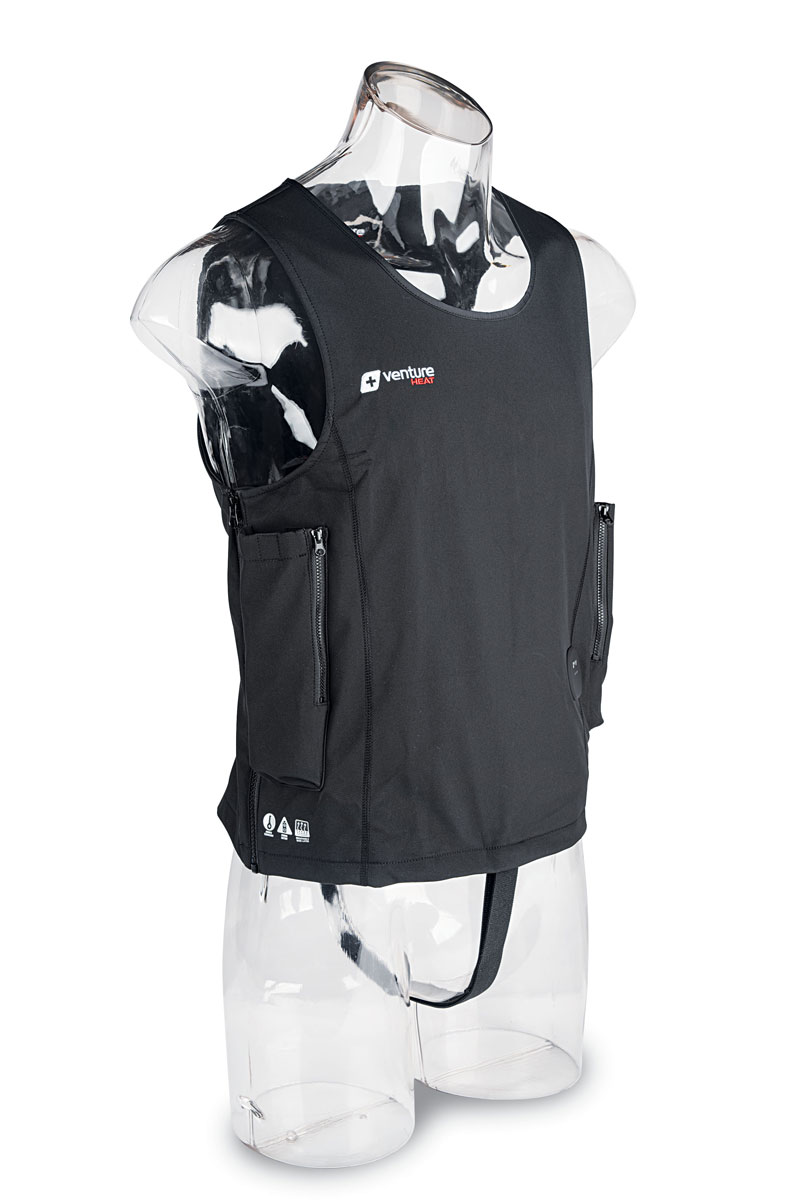 Electric heating panels in the front and rear of this vest keep you warm even in frigid dive conditions. Designed for wear under a wetsuit or drysuit, it's powered by a pair of rechargeable lithium batteries with rugged aluminum casings rated to 300 feet. Three power levels can be adjusted via the wrist-mounted remote control, with the power level indicated by a vibrating receiver on the vest.  
ventureheat.com | $699  
 

VENTURE HEAT 20-WATT HEATED UNDERSUIT WAVE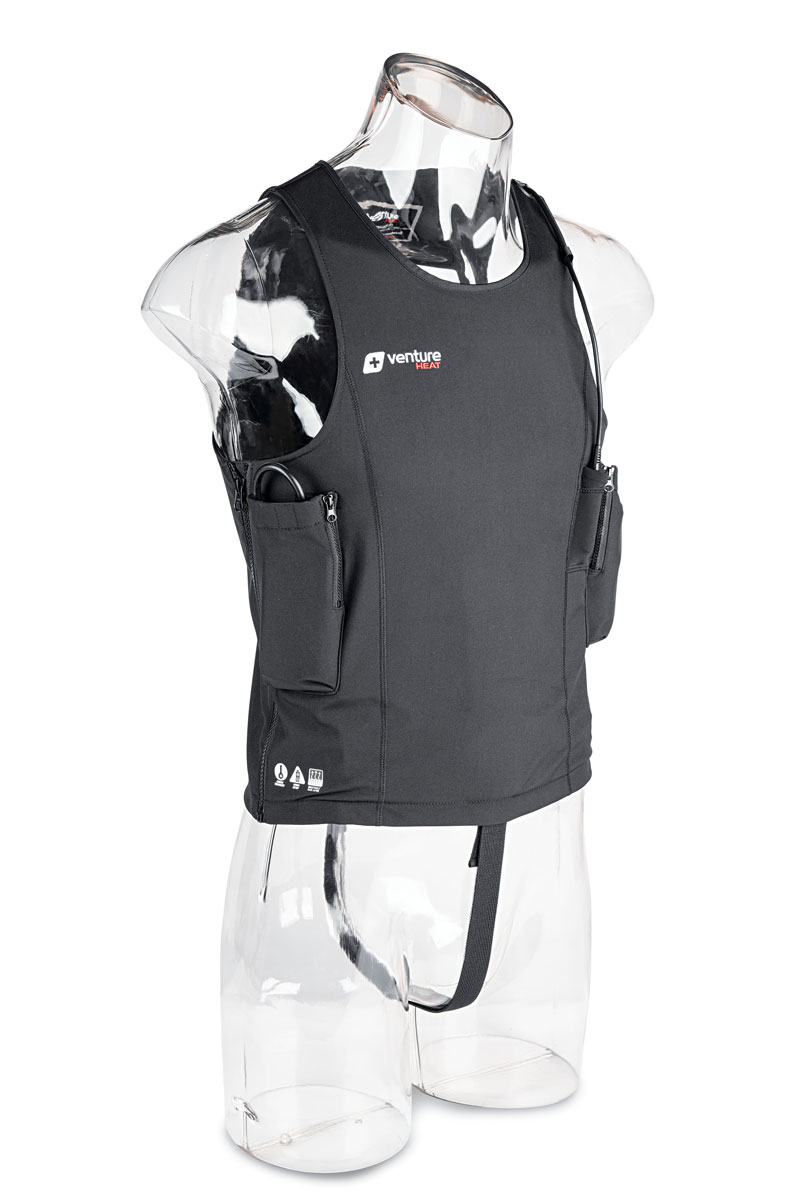 Featuring a heating element in the rear of the lightweight vest, the Wave model is designed for use by itself or under a wetsuit, with the specially designed compact, submersible batteries mounted in pockets under the arms. Rated to 300 feet, the suit operates for up to five hours on a single charge. Adjust between three power levels with the built-in temperature controller. Includes two battery packs with charger.
ventureheat.com | $449  
  

WATERPROOF BODY X UNDERSUIT

Designed to provide maximum thermal protection without increasing weight or adding bulk, Body X undergarments are made of a hollow fiber polyester that functions like the fur of polar bears. The fabric wicks moisture away from the skin and pulls it to the suit's exterior, where it can evaporate. Separate top and bottom are gender-specific, and let you chose the right size and thickness of each.  
waterproof-usa.com | $80 (top), $80 (pants)  
  
Text and photos originally appeared in the March 2020 issue of Scuba Diving magazine.