You know you've found the perfect scuba regulator when you barely notice it's there. The 2020 Scuba Diving magazine Gear Guide breaks down the key features and pricing for some of the best scuba diving regulators models on dive shelves so you can find the right reg for you.  
AQUA LUNG LEGE3ND ELITE  
This top-shelf reg offers precision performance and enhanced  ergonomics to match its good looks. Engineered to provide a comfortable, low-effort work of breathing in warm and cold water, the Leg3nd is ready for any environment. The knurled adjustment knob allows divers to easily tune the inhalation effort to their own preferences.
Ergonomically designed Venturi switch overmolded with "soft touch" elastomer
aqualung.com | $899
APEKS MTX-RC  
 
The MTX-RC combines military-grade engineering with solid, silky-smooth breathing performance. The over-balanced diaphragm first stage features two angled high-pressure ports and has five medium-pressure ports on a rotating turret. The pneumatically balanced second stage uses a heat exchanger to dissipate cold and draw warmth from the water.  
apeksdiving.com | $949  
CRESSI AC2/COMPACT  


With a robust first stage partnered to a featherweight second, this regulator is- capable and comfortable. Made of nickel-plated brass, the simple piston first stage features a single HP port and four LP ports. The compact second stage is made of a lightweight elastomer that is easy on the jaw for all-day diving comfort.  
cressi.com  | $249.95
CRESSI AC25 MASTER CROMO  


This reg's second-stage features a laser-etched titanium front that's a thing of beauty. Its breathing adjustment knob and top-mounted Venturi switch give divers quick control of freeflows. The AC25 balanced piston first stage delivers constant intermediate pressure, with five LP ports on a rotating turret with two HP ports.  
GENESIS PRANA

While the heritage of its predecessor THE GS2000 is apparent, the new Prana aims to build on that reputation. The environmentally sealed piston first stage has a balanced design for consistent performance as tank pressure drops. The second stage has an ergonomic breathing control for adjustable performance, a top-mount Venturi control, and a lightweight design.  
genesisscuba.com | $405  

MARES EPIC ADJ 82X  

This rugged reg is built to meet the most demanding conditions for divers willing to take on challenges. With the Twin Power System, the reg's performance can be precisely tailored to meet conditions. Its metal construction and pneumatically assisted design make it a capable, reliable tool for cold water use.  
mares.com | $893 
SEAC DX 200  

Seac's flagship regulator features a high-performance balanced-diaphragm first stage constructed from chrome-finished forged brass, with angled HP and LP ports. The lightweight, compact second stage has an ergonomic breathing resistance control and an easy-reach Venturi lever. The front cover is scratch-resistant.  
seacsub.com | $549   
SCUBAPRO MK25 EVO/D420  
This new reg builds on the concepts behind earlier D-series models. The D420 second stage locates the diaphragm below the mouthpiece intake for slightly higher ambient pressure, to reduce the valve-cracking effort. Paired with the capable MK25 EVO first stage, the D420 has an easy-reach top-mounted Venturi control. 
scubapro.com | $999   


TUSA RS-681
The compact, elliptical S-81 second stage features a sequential exhaust assist and has a ceramic moisture plate to prevent dry mouth. The click-spring adjustable control allows precise breathing adjustment, while the top-mounted Venturi lever is easy to reach. The lightweight R-600 balanced diaphragm first stage is sealed.    
tusa.com | $699 
ZEAGLE F8  


Combining Zeagle's balanced diaphragm first stage with a flagship 2nd stage, the F8 offers easy, dry breathing. The first stage has a dry-sealed spring chamber, with critical components protected behind the clear hydrostatic diaphragm. The low-profile first stage places the low-pressure hoses out to the sides.  
zeagle.com  | $629.95  
MARES HORIZON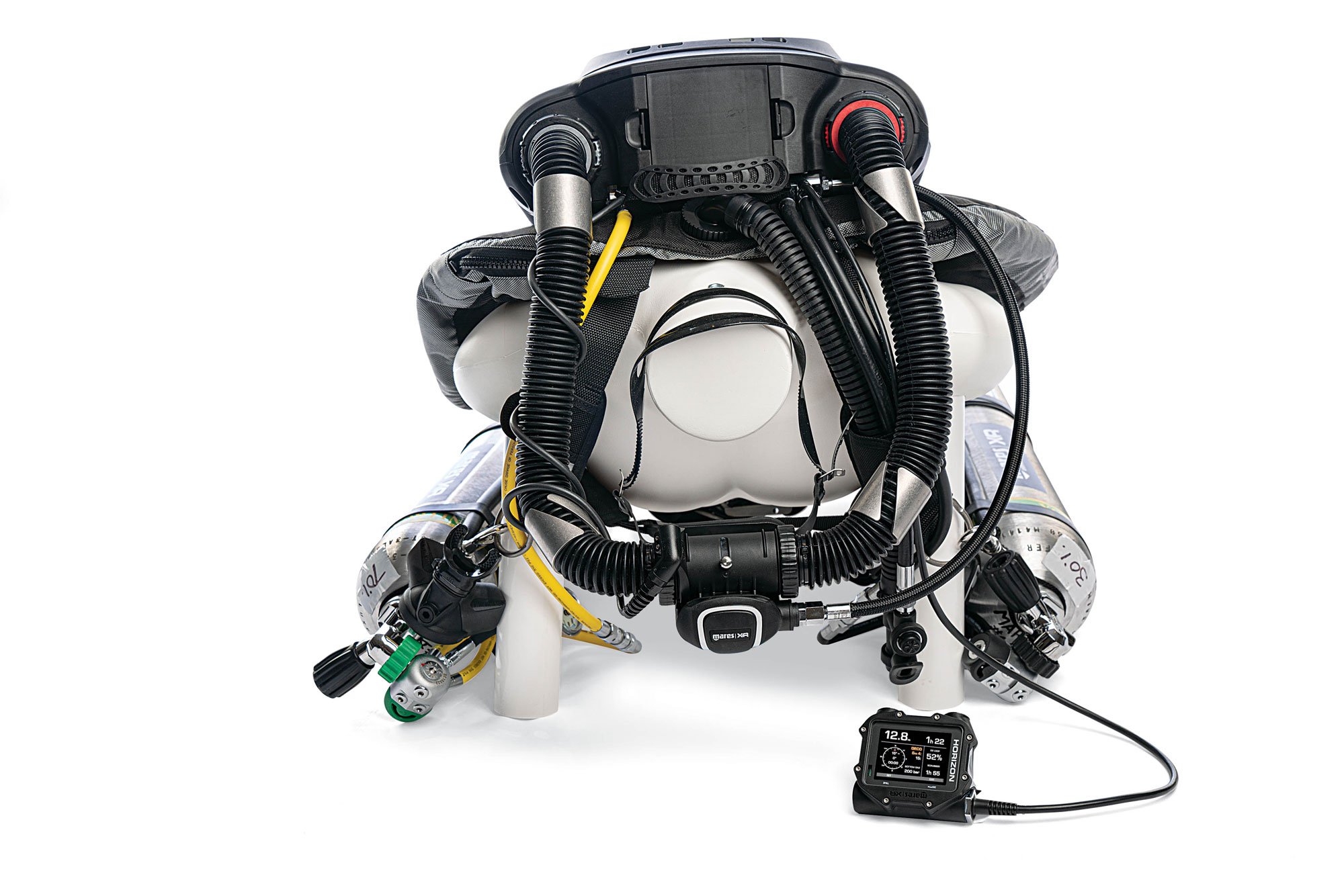 The Horizon offers the benefits of a rebreather—extended bottom time, almost no bubbles, and warm, moist breathing gas—in a streamlined package that operates with a single Nitrox cylinder and a head-up display. The included electronic controller features a 2.8-inch color screen that shows scrubber status, loop O2 level, a digital compass and more. And it's designed to be assembled and cleaned without tools for added convenience.  
Recreational rebreathers in a semi-closed model designed with safety foremost
mares.com | $4,500
OTS GUARDIAN FULL-FACE MASK WITH REGULATOR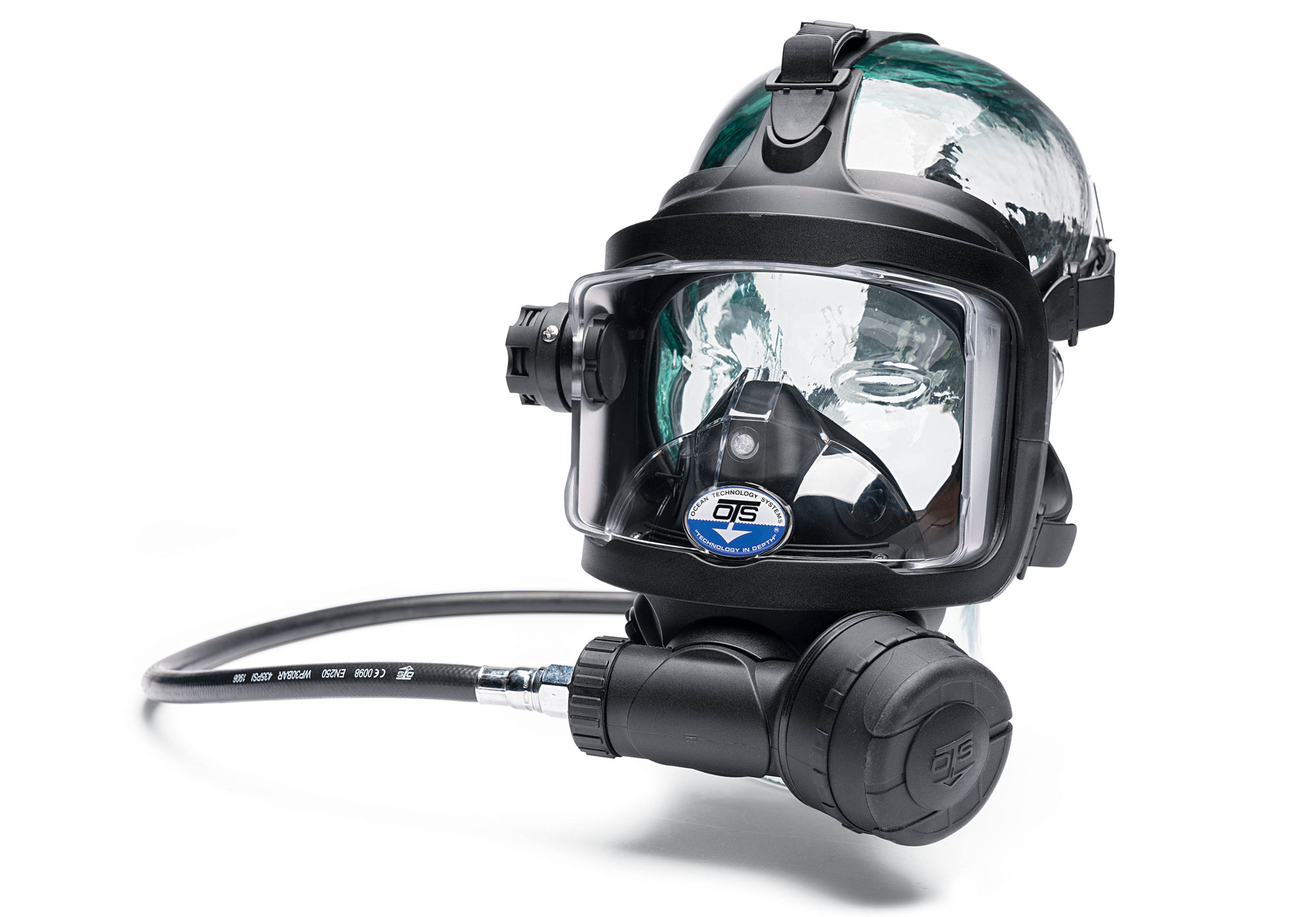 The Guardian full-face mask provides a dry, comfortable diving experience thanks to its effective double seal and a design that permits divers to breathe naturally from the nose. Invaluable in cold or contaminated water, this mask can be outfitted with OTS's wired and wireless underwater communication systems. The built-in second stage is removable for easy cleaning and storage.    
oceantechnologysystems.com | $849
SAFETY GEAR  
SUBMERSIBLE SYSTEMS SPARE AIR 300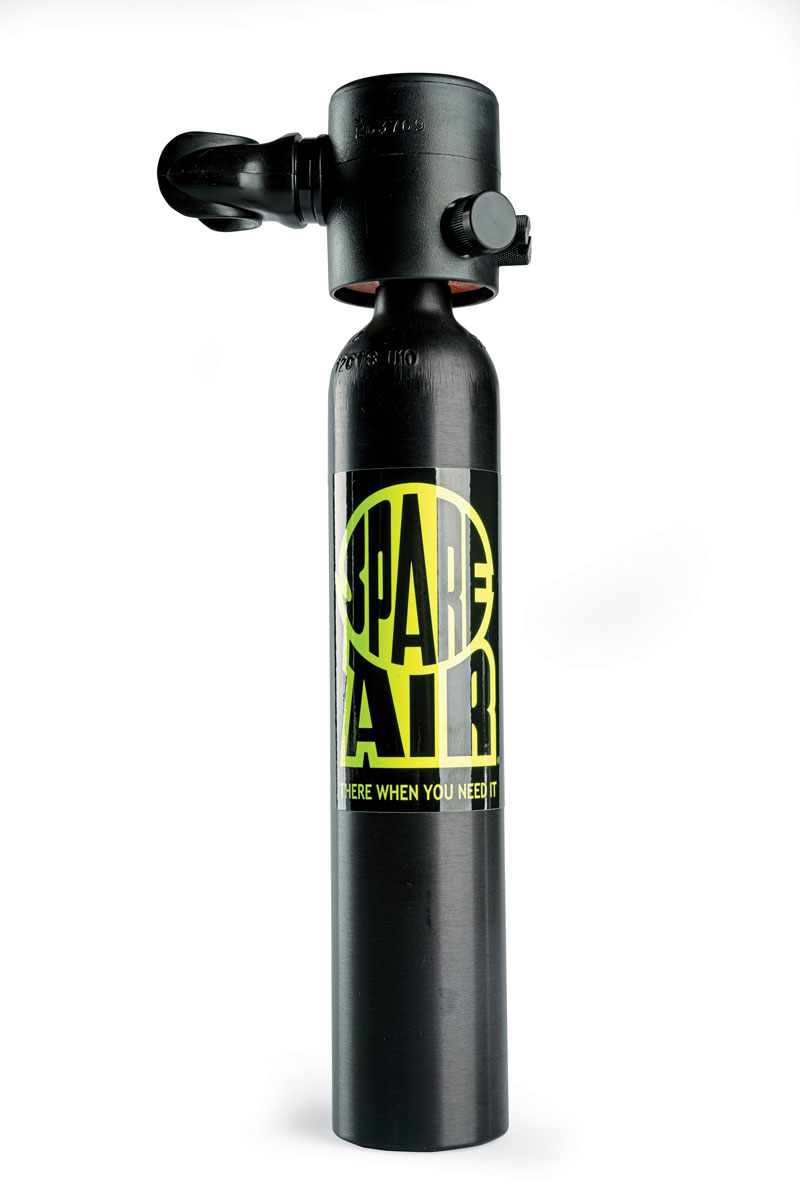 Known as "the diver's reserve parachute," the Spare Air is must-have equipment for the safety-conscious diver. With 3 cubic feet of breathing gas, the 300 is 13.4 inches long and 2.25 inches in diameter, and is ready to breathe when you pull it from its easy-mount holster. Drain the tank, spin off the regulator, and it's ready to fly.  
spareair.com | $330

SUBMERSIBLE SYSTEMS LIMITED EDITION 40TH ANNIVERSARY SPARE AIR PACKAGE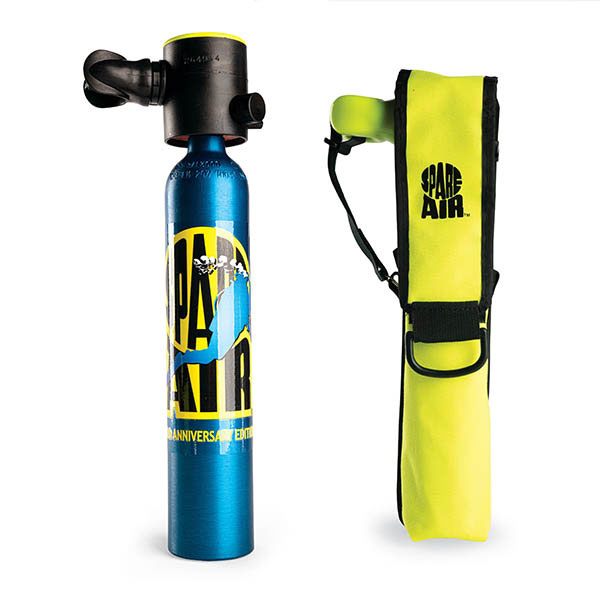 Four decades of helping divers safely reach the surface in an out-of-air emergency is a milestone—and one you can take note of with this limited-edition anniversary model. Available in 3 and 6 cubic foot sizes, it features a custom anodized blue tank and t-shirt, available with an optional dial pressure gauge.  
spareair.com | $330 (3 cubic-foot)  
SUBMERSIBLE SYSTEMS SPARE AIR 600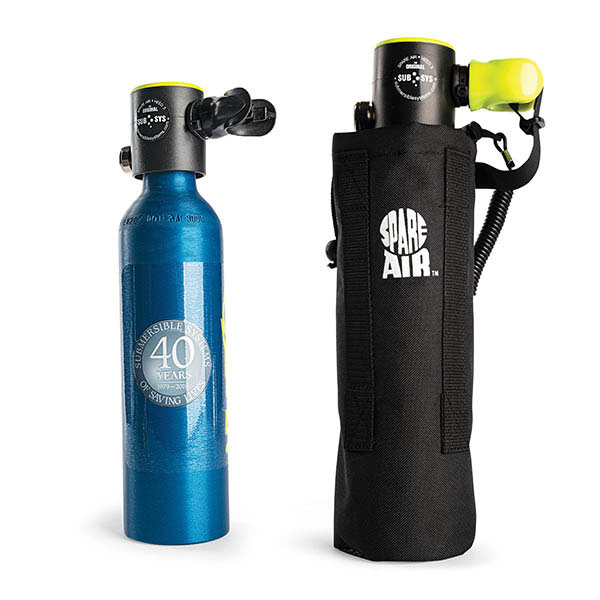 With 6 cubic feet of breathing gas, you get double the supply of the 300 in a package that's the same length and still just 3.25 inches in diameter. Like all Spare Air models, it's easy to fill from any scuba tank using the included adapter—with no tools need- ed—and its safe and easy to fly with when empty.  

spareair.com | $400