Discover what's lurking in American waters, from crash landed planes to purpose-sunk missile-tracking ships.
Real shipwrecks give us history — and humility. Now they're the minority, outnumbered by the purpose-sunk — those shiny, happy artificial reefs that are the toast of logbooks everywhere. But diving them gives you a first-hand, deep look at the country's history.
1. M/V Lulu - Gulf Shores, Alabama
"We've got good bait balls on it," Jim Mayhen, instructor at Down Under Dive Shop in Gulf Shores says of the 271-foot/83-meter Lulu. Since the May 2013 sinking 23 miles offshore, Mayhen reports that snapper, Spanish mackerel, toadfish, and 70- to 80-pound "AJs," or amberjacks, are seen regularly.
Downunderdiveshop.com
2. H.M.C.S. Yukon - San Diego, California
"There are two paths I like the most," says John Flanders, wreck-diving instructor-trainer, of 366-foot Yukon, off the coast of San Diego, California. "The first is underneath the wreck where the dolphins are at 110 feet/33 meters, then under the bow — there's something peaceful about it." The second route he favors is to the "middle guns" area of the 2000-sunk vessel. Since the Yukon was purpose-sunk, many features remain, like the artillery and smaller, exterior rooms were made accessible. Flanders, who teaches penetration diving, says the "inside top levels are fantastic — but on the Yukon's top decks, you can absolutely have high adventure."
Waterhorsecharters.com
3. U.S.S. Spiegel Grove - Key Largo, Florida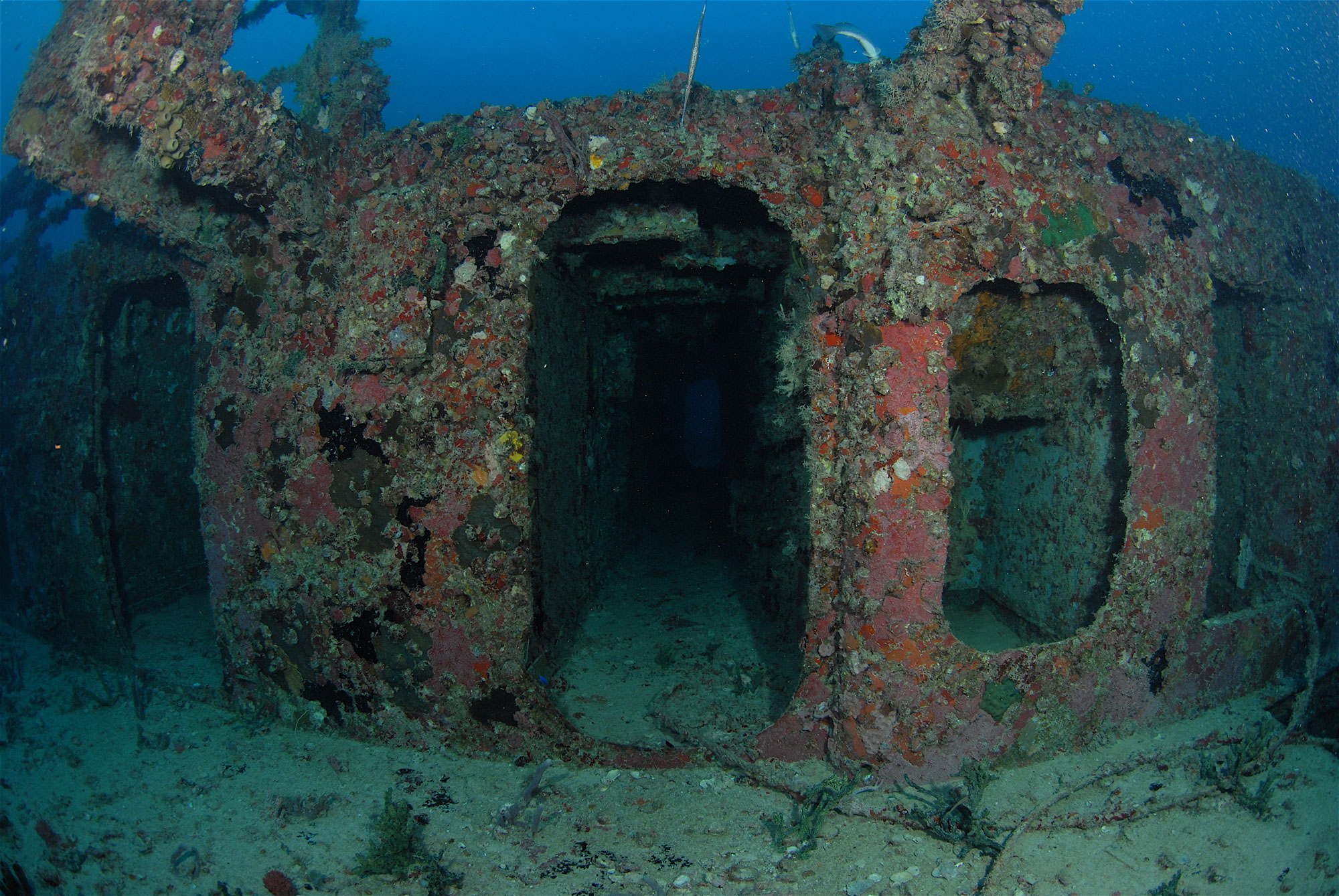 It's a dive you do your homework for: U.S.S. Spiegel Grove is a 2002-sunk landing ship six miles off the Key Largo coast on the current-prone Dixie Shoal, and most local dive operators don't put guides in the water with customers. At 510 feet/156 meters long, the Middle Keys' largest artificial reef is extremely popular, so the mooring ball you start from is as unpredictable as the currents. Also,  Study a map of the vessel so you are familiar with various routes, and can spot unique features like the coral-coated gun mounts.
Oceandivers.com
4. USCGC Duane - Key Largo, Florida
One of the Florida Keys' oldest artificial reefs, the Duane started life underwater in 1987. Over three decades, the Key Largo staple collected yellow tube, encrusting, and orange corallimorph sponges. Like the soldiers who served aboard it in WWII and Vietnam, it's heavily decorated. The 327-foot/110-meter ship has also established itself as habitat for schooling barracuda and Atlantic spadefish. The deck is at 108 feet/33 meters, giving divers plenty of space to explore.
Oceandivers.com
5. USS Oriskany - Pensacola, Florida
"You're diving a monument," Captain Dave Mucci, owner of Pensacola-based Blue Water Adventures dive charter company, says of Oriskany,. Sunk in 2006 to a depth of 80 to 212 feet/24 to 65 meters, the world's largest artificial reef and only aircraft carrier within recreational limits, settled another 9 feet/3 meters during Hurricane Gustave in 2008. Recreational divers will spend most of their time focused on the wheelhouse, sunk "with all the bells and whistles — all the gadgets," says Mucci. Whereas the control tower once received fly-bys from E-2 Hawkeye warning aircraft, it's now buzzed by manta rays, whale sharks, and mola molas.
Bluwateradventures.com
6. Eagle - Islamorada, Florida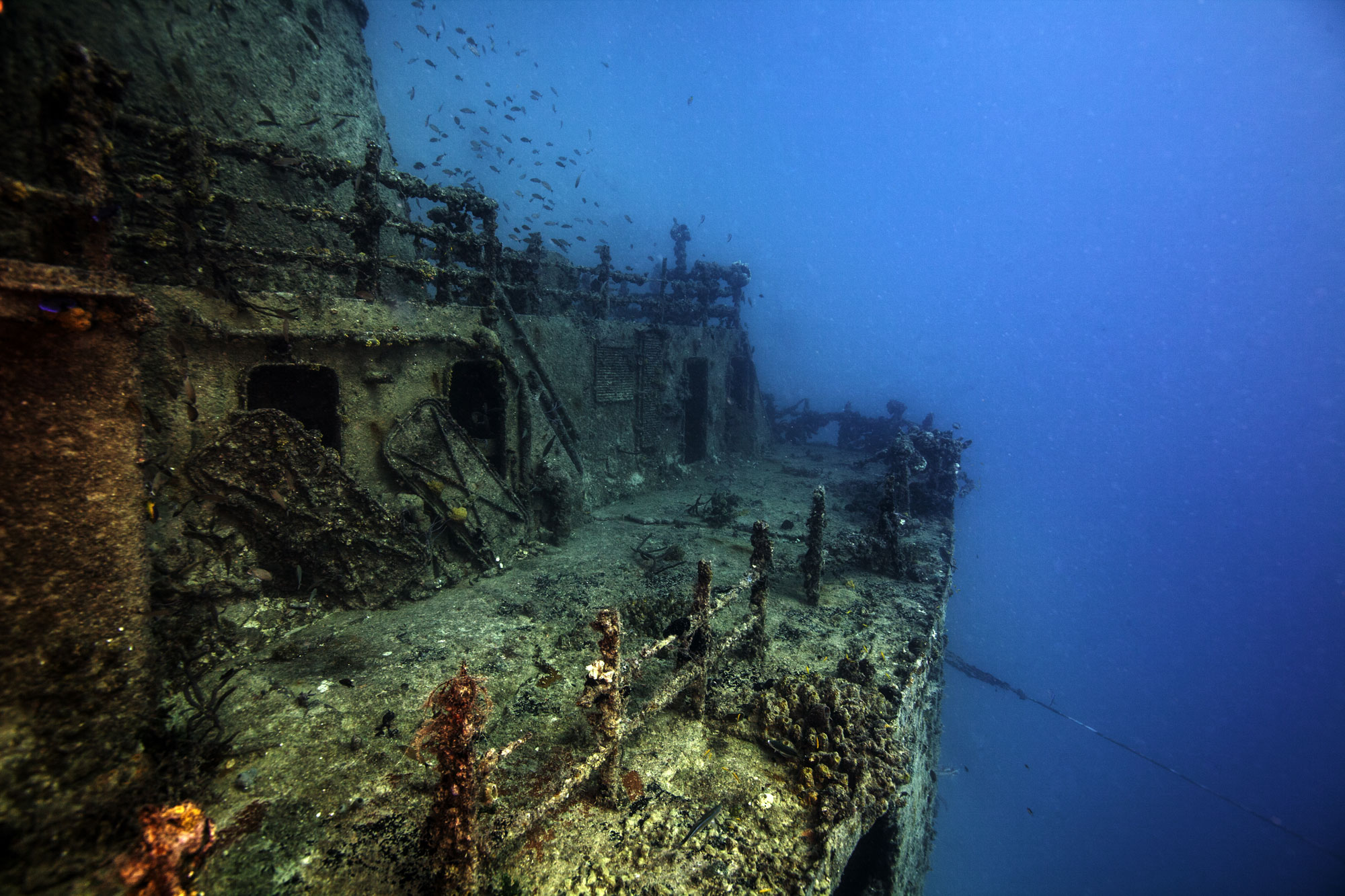 Ask any ship-sinking team and they'll tell you that a perfect job ends with an intact, upright artificial reef. When a demo team blasted holes in the 287-foot/84 meter Eagle in 1985, their success rate was 50-50: She stayed intact, but landed on her starboard side. Then 1998's Hurricane George hit. The result? Like a warm knife slicing through layer cake, George revealed the freighter's cavernous holds, letting light pour in. Current sweeps through regularly, bringing 90 feet/27 meters of visibility and greater, and ushering in crowd favorites like green turtles, and eagle rays. Some might even call it perfect.
keydives.com
7. USNS General Hoyt S. Vandenberg - Key West, Florida
"It's two football fields long," Cece Roycraft, co-owner of Dive Key West, says of the 2009-sunk Vandenberg, the world's second-largest artificial reef, now sitting at a depth of 156 feet/48 meters, 5 miles off of Key West. Roycraft helped spearhead the committee that chose the 523-foot/153-meter retired Air Force missile-tracking ship for its size, accessibility, and history - (the ship helped track the Apollo, Gemini, and Mercury launches). Diving highlights include the antennae, radar dishes, helicopter hangar, elevator shafts, cargo hold shafts, wheelhouse, and prop wheelhouse created for the movie Virus.
Divekeywest.com
8. Engedi - Kona, Hawaii
Hawaii's wrecks deliver the big guns — only we're not talking ammo. We're talking fish. "Our staff really enjoy this dive," Andy Woerner, operations manager at Jack's Diving Locker, says of the 45-foot sailboat Engedi, nicknamed the "Naked Lady." Woerner points out that most of their dives are along reefs and steep drop-offs, whereas this vessel lies in sand at 110 feet/34 meters. This environment ushers in species not commonly seen: leaf fish, longfin anthias and Hawaiian lionfish, an endemic variety with a green tinge.
jacksdivinglocker.com
9. Carthaginian II - Maui, Hawaii
The highlight of diving Maui's Carthaginian II wreck is something passengers buzzing by in the Atlantis submarine will never see: three frogfish that have lived on the wreck for five years on end, according to Lahaina Divers general manager Tim Means. "Ninety-nine percent of the time, you see all three," he says. The former whaling museum, a 100-foot/30 meter-long steel-hulled schooner once a fixture of the Lahaina Harbor, was sunk in 2005 to a depth of 95 feet/30 meters.
10. Vought F4U Corsair - Oahu, Hawaii  
The Corsair fighter aircraft is the state's only authentic wreck, landed in 1945 on the sand off Oahu when a pilot ran out of fuel. "It's in such amazing condition," says Lewis Heuermann, PADI Staff Instructor for Dive Oahu. The cockpit's gauges, stick, seat, and rudder pedals all remain. The plane sits in a field of garden eels at 115 feet/35 meters. Frogfish bunk near the plane's tail, and a yellow margin moray eel claimed the cockpit. The best part: The wreck sits out in the sand desert — the cruising ground of 15-foot/5-meter Galapagos sharks.
Diveoahu.com
11. USS YO-257 - Oahu, Hawaii
"The YO-257 is pretty exciting for two reasons," says Heuermann. "It was sunk as an attraction for the Atlantis Submarines [tour company], so it's easy to penetrate — the entries and exits are very clear." The other reason is the environment. "Stingrays come by in threes and fours to do fly-bys." Heuermann warns as mesmerizing as the rays are, divers need to stay alert. "We always brief about the sub — you've got to stay out of its way!"
Diveoahu.com
12. Grecian - Alpena, Michigan
"You don't feel claustrophobic at all," says Kimberly Collingham of the 296-foot/90-meter Grecian, a steel steamer that sunk in 1906 off the coast of Alpena, Michigan, referring to the fortuitous (for divers) splitting of the ship's middle. The break reveals the interior decks to those with no penetration training. Anyone comfortable reaching the deck, which starts at approximately 70 feet/21 meters, can taste what it's like to swim around the engine and boiler, and through the cargo holds and decks. "With the sun shining, you get ambient light all around — it's beautiful," Collingham says.
13. Sandusky - Mackinaw City, Michigan
A wooden brig well preserved by Lake Michigan's frigid depths, the 110-foot/34-meter-long Sandusky sunk in 1856 west of Mackinaw City, Michigan. For most divers, it's not the propeller or twin masts, but the ram-shaped scroll figurehead that is the most beloved detail.
Diveshopmi.com
14. Cornelia B. Windiate - Alpena, Michigan
When all crew disappear with a ship, so does the truth. The 138-foot Cornelia B. Windiate sunk in 1875 in what is now the Thunder Bay National Marine Sanctuary off Alpena, Michigan. The wooden schooner is upright and almost perfectly preserved in 180 feet/55 meters of water. Even its three masts are still fixed in place. It's now a well-mapped wreck thanks to NOAA's 3D animated maps that detail the cabin, rudder, and crew lifeboat — everything but a sign of impact.
tbscuba.com
15. USS Algol - Asbury Park, New Jersey
If you sink it, they will come: This 459-foot/140-meter attack cargo ship was reborn as an artificial reef in 1991, and the fish off New Jersey took notice. Captain Dan Berg, author of Wreck Valley, calls Algol an oasis: "Everywhere you look, there's life: barnacles, baitfish, crabs, lobsters, blackfish, sea bass, schooling bluefish all the way up to sharks — we get the occasional blue or mako."
Aquaexplorers.com
16. SS Oregon - Islip, New York
Locals love the Oregon because it yields an impressive lobster harvest every year. Even those without grab permits will appreciate the 518-foot/158 meter passenger liner in 130 feet of water, 21 miles/34 kilometers south of the Fire Island Inlet, as its breakage exposes the boilers, propeller, masts, and engine block.
Aquaexplorers.com
17. Keystorm - Chippewa Bay, New York
This 256-foot/78-meter steel freighter wasn't reefed in the St. Lawrence Seaway on purpose — but it couldn't be cleaner for penetration. Fog caused the 1912 run-in with another vessel, sending it the Keystorm to rest between 25 and 110 feet/7 and 34 meters of water. Its coal cargo was salvaged; the process also made the ship safe for divers. Highlights include the engine room, propeller, accessible holds, and the starboard-side air pockets large enough for divers to chat.
huntsdiveshop.net
18. USS San Diego - Islip, New York
The country's only World War I wreck, the 503-foot/153-meter San Diego 13.5 miles/22 kilometers off New York's Fire Island now belongs to the U.S. National Register of Historic Places — it is a no-take zone. Upside-down, the San Diego rests in 110 feet/34 meters of water with a hull at a depth of 70 feet/21 meters. Much of it was already salvaged, but bullets, portholes, and brass valves remain. Aquaexplorers.com
19. USCGC Spar - Morehead City, North Carolina
There's one reason divers love the Spar: teeth. The rows upon rows of teeth all curling back toward the gullet of the unflappable sand tiger shark. This 180-foot/55-meter vessel, lying on its port side thanks to Hurricane Irene, is a favored hangout for dozens at a time. They hover such that when the current picks up, divers are treated to some curious choreography. "The waves crash over the wreck, creating this surge pattern," says North Carolina dive instructor Tyler Boruff. He stays low to the structure, eyes trained above as "the current shoots them right over top of you." Olympusdiving.com
20. Papoose - Morehead City, North Carolina
"You had my heart when you said Papoose," North Carolina's Boruff says of the 412-foot/126 meter freighter lying 36 miles/58 kilometers south of Beaufort Inlet. The two-hour boat trip makes it a site that local operators won't venture to every weekend. Far out, directly in the Gulf Stream, it enjoys dreamy blue water and leagues of marine life, including Spanish mackerel, mahi-mahi, jacks and bait balls. "The sharks circle, and giant grouper love to hang here because they're protected by the sand tigers." Boruff explains that the grouper have become familiar with spearfishing, common in North Carolina, and recognize that no hunter dares fire around so many sand tigers. Olympusdiving.com
21. U-352 - Morehead City, North Carolina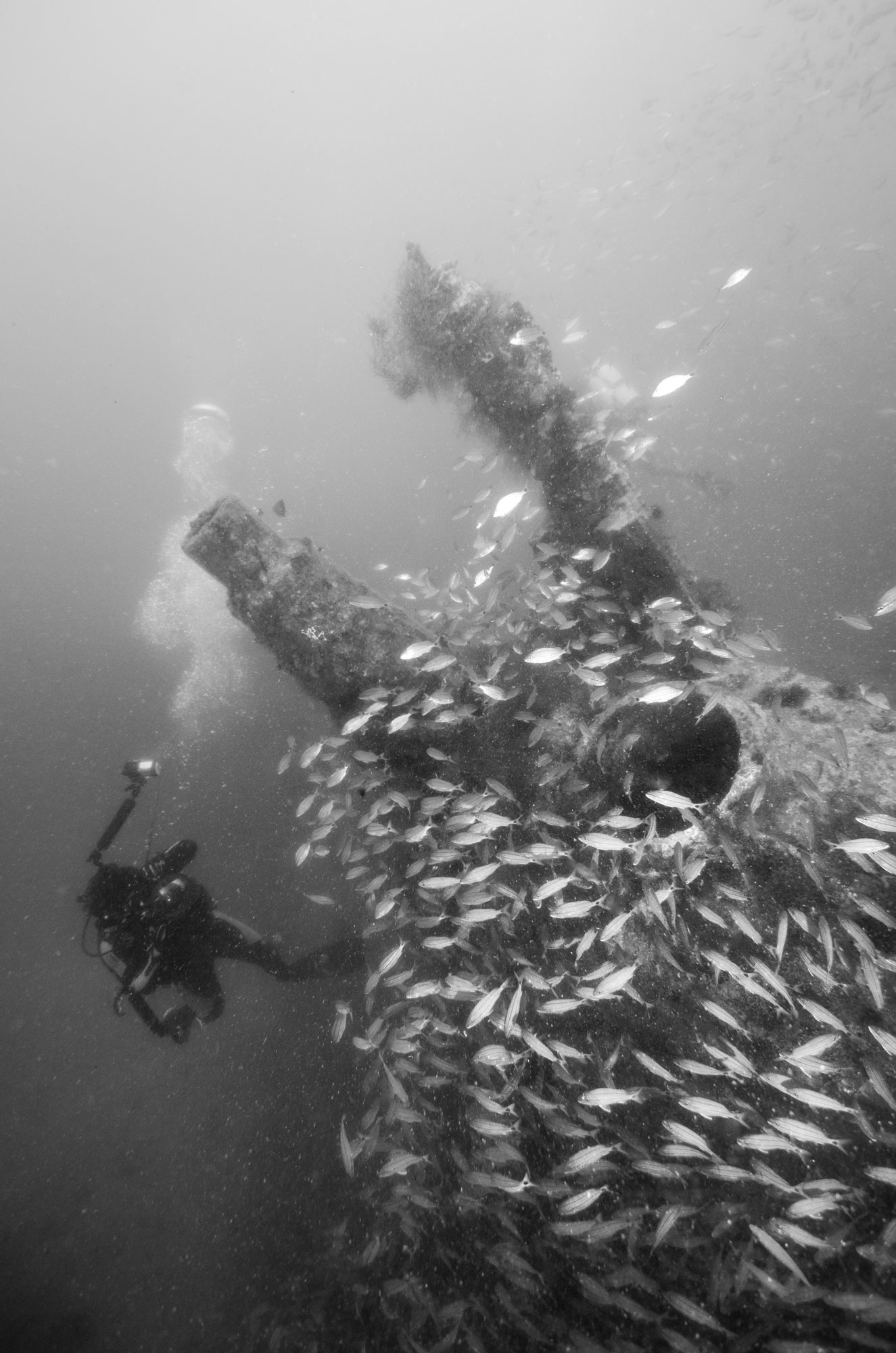 The best part of underwater historic sites like North Carolina's U-352 is that they're anything but static. The outer shell has largely rusted away, revealing a more intimate look at the cramped quarters of this 218-foot/66 meter machine. "You can see the insides — you can see doorways," says Boruff. Those who can get past the awe factor and can train their focus tighter might see the glint of an artifact that's just been churned up. "The bullet casings are small, and not everyone sees them," adds Boruff. "I've found several, but I always leave them." Olympusdiving.com
22. U-853 - Block Island, Rhode Island
When Ed Rosacker, owner of Essex, Connecticut-based Diver's Cove, wanted to see U-853 for the first time, it took three trips, thanks to Rhode Island's highly variable weather and visibility. On an early dive, he couldn't see beyond the silt. "I put my hand on the hull and, thought, 'Yup, that's a submarine.'" On days with 60 feet/18 meters of visibility, Rosacker is wowed by how surreal it is to dive this warship within sight of Block Island. Its attack and horizon periscopes are visible, distinguishable by those who understand what's within their sights. Torpedoes-in-waiting still pack the chambers. The sub is also still surrounded by "hedgehogs," the anti-sub weapons developed by the Royal navy to detonate on impact. It's a site that rewards those with patience. Diverscove.com
23. USTS Texas Clipper - South Padre Island, Texas
"They just find structure and swim circles around it," says Captain Tim O'Leary of the whale sharks that, come July, find the Texas Clipper artificial reef 17 miles off the coast of South Padre Island. Intentionally sunk in 2007, the 473-foot/114 meter former Texas A&M University research vessel was cleaned so that even open-water divers can locate the promenade and A-decks at 62 and 80 feet/19 and 24 meters, then swim as many laps as they like. Divesouthpadre.com
24. SS Wisconsin - Kenosha, Wisconsin
Humans are curious: We dive wrecks because we want to find stuff, like artifacts and anchors. In this regard, 215-foot/66-meter Wisconsin delivers. This ship sunk on October 29, 1929, six miles/10 kilometers east of Kenosha, Wisconsin, settling 130 feet/40 meters beneath the surface. Divers need only peek inside a large opening on the port side to see the cargo: three cars remain aboard — a Hudson, an Essex and a Chevrolet — along with a tractor. Windycitydiving.net