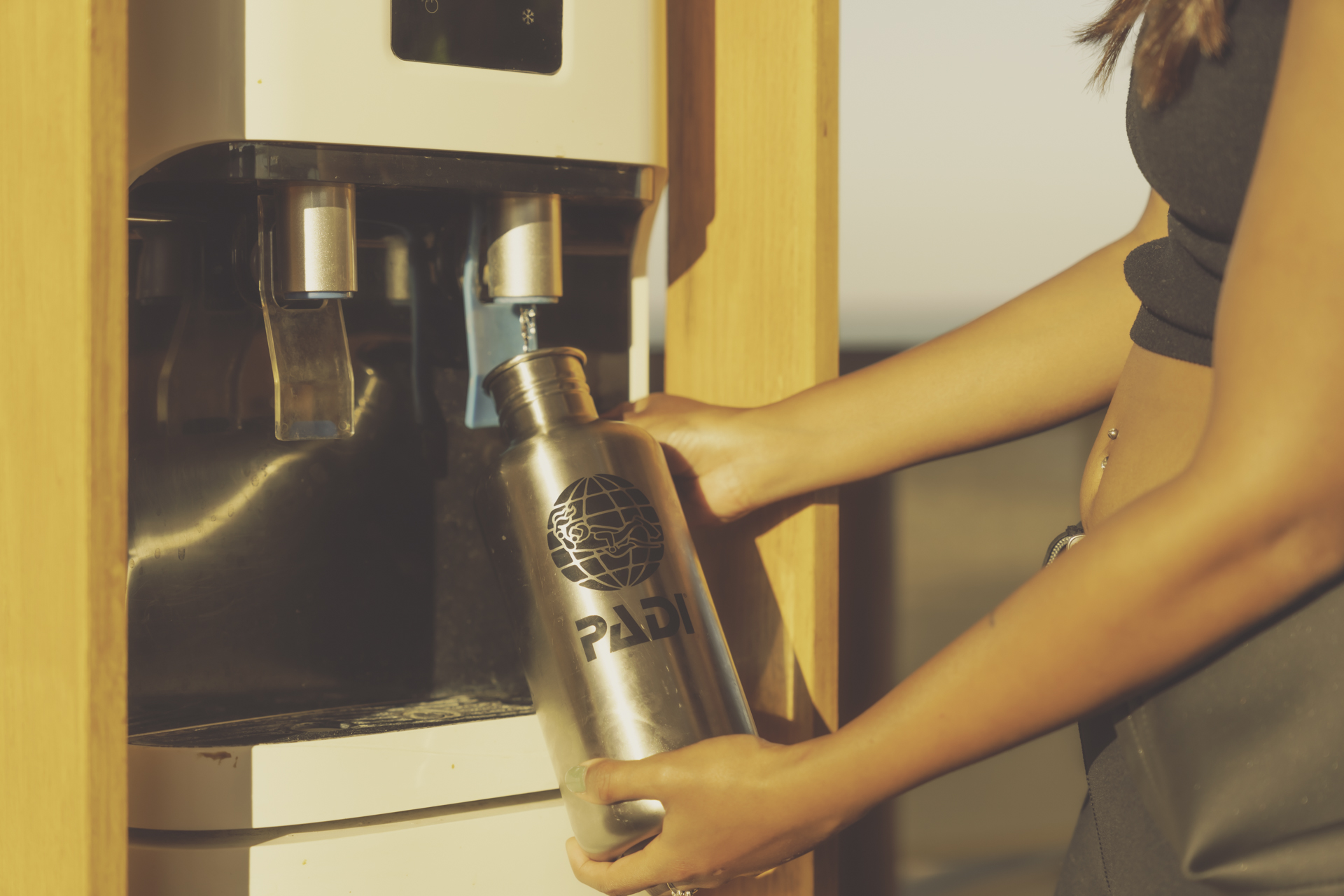 Make a Difference with
Every Dive
Recognized for Excellence: PADI Eco Centers
PADI Eco Center is granted to PADI Dive Centers and Resorts that demonstrate a dedication to conservation and dive industry sustainability.
Through Adopt the Blue, each PADI Eco Center is actively promoting marine biodiversity and community resilience by addressing our ocean's global challenges. PADI Eco Centers create opportunities for all to engage in direct conservation action including citizen science, policy advocacy, and education.
Combined with PADI's partners, The Reef-World Foundation's Green Fins Initiative, PADI Eco Centers also demonstrate an exemplary level of environmental best practice. Each PADI Eco Center has made substantial changes to educate all staff members and reduce the environmental footprint of their operations, embedding sustainability as a core business value.
PADI Eco Centers offer a trustworthy choice for all ocean enthusiasts who want to ensure that the cost of their marine adventure goes hand in hand with the protection and restoration of natural resources and the well-being of local communities.
PADI AWARE's Adopt the Blue
Adopt the Blue is the world's largest network of underwater sites for conservation. Led by PADI Dive Centers, Resorts and Professionals, each take responsibility for a local dive site and - together with their communities - gather and report critical data, increase awareness of conservation issues and engage with local, national and international policy campaigns as called upon.
The Reef-World Foundation's Green Fins Initiative
Green Fins members agree to follow the Green Fins Code of Conduct, receive an annual impact assessment, commit to a minimum of three actions per year and receive training to help improve their environmental sustainability. To be recognized as a PADI Eco Center, each has met a challenging threshold of low environmental impact representing exemplary environmental best practice.
What drives a PADI Eco Center?
Meet the leaders behind a handful of PADI Eco Centers
"We shifted our core focus to environmental and conservation issues because we care and it's our duty to preserve the oceans for future generations."
"Protecting the ocean is at the heart of everything we do as a dive centre."
Fifth Point Diving Centre
"I dream that one day my children and all future generations can share my passion for this beautiful diving profession."
"We use dive tourism to help protect the incredible creatures that keep us coming back to the ocean time and time again."
"Through public education, eco-conscious diving, and snorkeling practices we have pledged to be a leading dive center for conservation."
Silent World Diving Center
PADI Eco Center Resources
What are the criteria for PADI Eco Center?
There are three criteria that a PADI Operators must meet to qualify as a PADI Eco Center:
1. Participation in the PADI AWARE Adopt the Blue™ program 
2. Be an active Green Fins Member
3. Demonstrate an exemplary level of environmental best practice, through the above programs
These requirements were selected to advance the PADI Blueprint for Ocean Action and support the PADI Pillars of Change, designed to integrate the core values of conservation and dive industry sustainability across the entire PADI network. We recommend operators give themselves at least 12 months to meet the minimum standards required for this designation.
How can I trust a PADI Eco Centers sustainability credentials?
The PADI Eco Center recognition has been created to make it easier for all divers, adventurers and travel experts to find and book with ocean-first, marine conscious operators they can trust. By combining the strength of PADI AWARE's ocean conservation programs with the world's leading authority on environmental best practice for the marine tourism industry (The Reef-World Foundation's Green Fins Initiative), PADI Eco Centers are both overflowing with practical opportunities for divers to take action to save the ocean alongside external validation of legitimately high operational sustainability standards as recognized by the United Nations Environment Program.
I'm a PADI Dive Shop. How do I become a PADI Eco Center?
Step 1: Participate in Adopt the Blue (registration guidance available at adopttheblue.org)
Step 2: Become a Green Fins Active Member (guidance available at greenfins.net/join)
Step 3: Engage with PADI AWARE courses, citizen science opportunities and campaigns, whilst logging progress on your Green Fins Action Plan and engaging with the Green Fins Community Forum. Through these actions your team will evidence an exemplary level of environmental commitment necessary for recognition.
Understanding PADI Eco Center: How To Demonstrate Exemplary Environmental Performance - PADI Pros
Step 4: Automatic recognition - when you meet all three criteria, your Dive Center or Resort will be automatically listed on the PADI Dive Shop Locator as a PADI Eco Center.
For more guidance, please contact your Regional Manager.
For specific questions about AWARE, please contact [email protected], and for questions about Green Fins, please contact [email protected].