PADI AWARE Conservation Strategy
Three decades of ocean conservation
Our Conservation Strategy
The PADI and PADI AWARE Blueprint for Ocean Conservation aims to engage and activate the Ocean Torchbearer community, which consists of millions of divers, ocean advocates, and PADI's global network PADI Dive Centers and Resorts, to create meaningful ocean change with clear actions they can take at both the local and global level.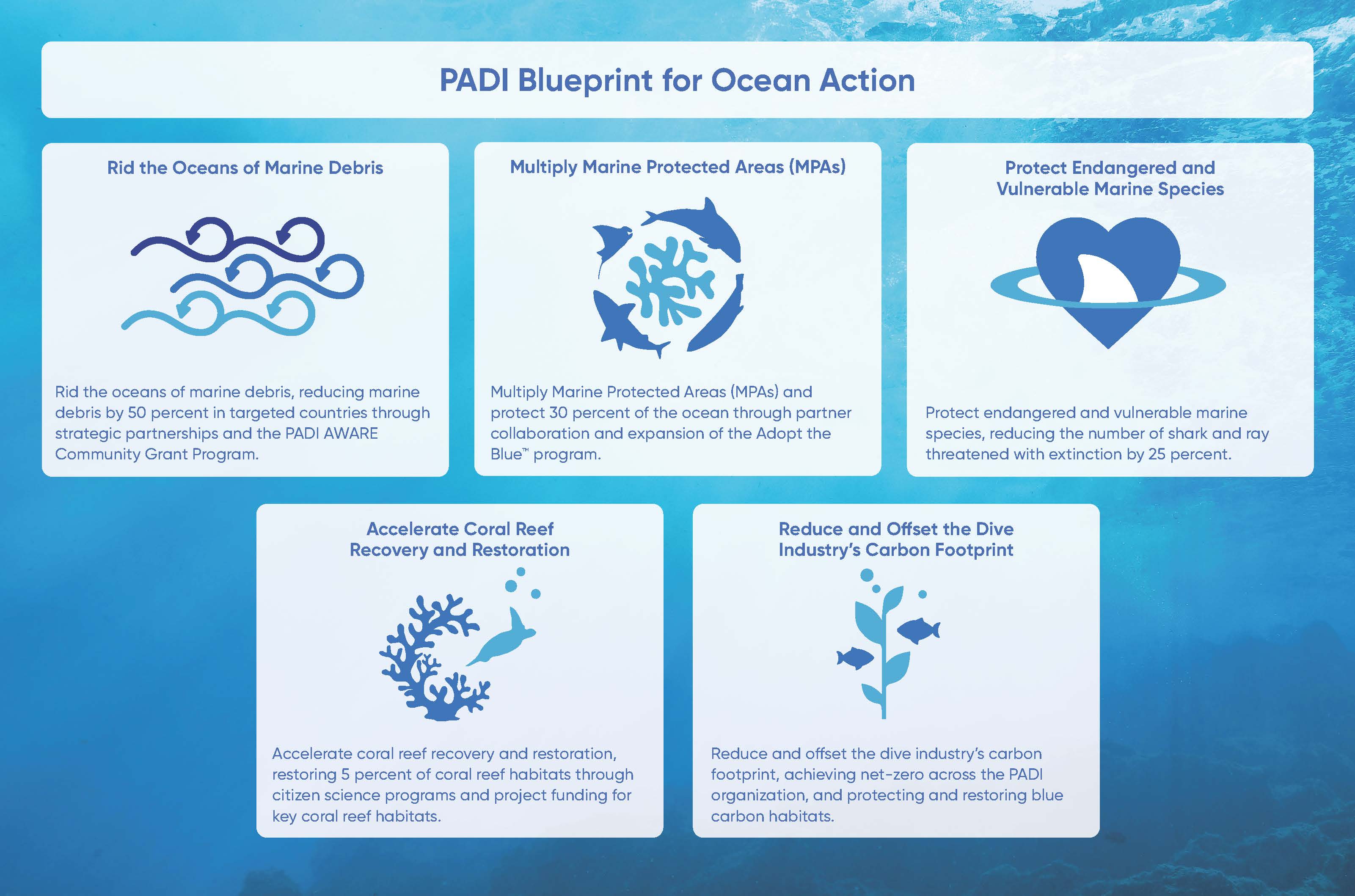 Our Approach
COMMUNITY and POLICY are the critical focus areas that define our conservation strategy and advance PADI AWARE's mission to drive local action for global ocean conservation. 
Local Action
We activate the world's largest network of dive centers, dive instructors and divers to take 'fins on' and 'fins off' actions that create local impact. 

Key Community Actions 
Adopt a Dive Site Program
Citizen Science data collection
Local and national campaigns
Ongoing education & training
Global Impact
Our diverse and broad-ranging policy work helps advance the UN Sustainable Development Goals, specifically SDG 14 - Life Below Water.

Key Policy Actions
Global campaigns and direct advocacy
Marine research to inform policy
Providing economic evidence to advance conservation
Representing the dive industry at international treaties
AWARE supporter, Big Blue Vanuatu, has became a "champion voice" in developing the Commonwealth Blue Charter, an agreement by all 53 Commonwealth countries to actively solve ocean-related problems and meet commitments for sustainable ocean development.
IMPACT: The government banned non-biodegradable plastics, re-igniting traditional industries and the creation of new micro-businesses.
Global Shark Conservation
In 2019, the recreational dive community helped list endangered mako sharks at CITES. When Canada had not committed to backing the proposal, the dive community urged the Canadian minister to support limits to trade in mako sharks which helped secure a public announcement from Canada.

IMPACT: Canada is now a global champion for mako sharks, pushing forward further protection measures to try to end overfishing in the Atlantic.
PADI Dive Against Debris divers contributed key data to a groundbreaking study in collaboration with the international science agency CSIRO. The first global analysis of its kind, the study found that seabed debris is different than beach debris.
IMPACT: Marine debris data is critical evidence for creating ocean-friendly waste management policies. 
Foundation Funding and Program Allocation
PADI AWARE Foundation is an accredited and independently audited public charity with offices in the USA, UK and Australia.
Approximately 65% of foundation revenue comes from individual donors. Other sources include:

•    Grant Giving Foundations 
•    100% AWARE Partners (PADI Instructors, Dive Centers and Resorts)
•    Fundraisers 
•    Corporate Sponsors 
•    PADI Pro-bono Support
84% of donations are allocated directly to programs, and 16% to operating support.
PADI AWARE Foundation's work is made possible by generous donors like you. For more detailed information about how contributions are spent, review AWARE's Annual Impact Reports. 
Donate to PADI AWARE Foundation
All our work is made possible by generous donors like you.
Become a PADI Torchbearer
Be part of a global community turning passion into purpose for a healthier people and planet.