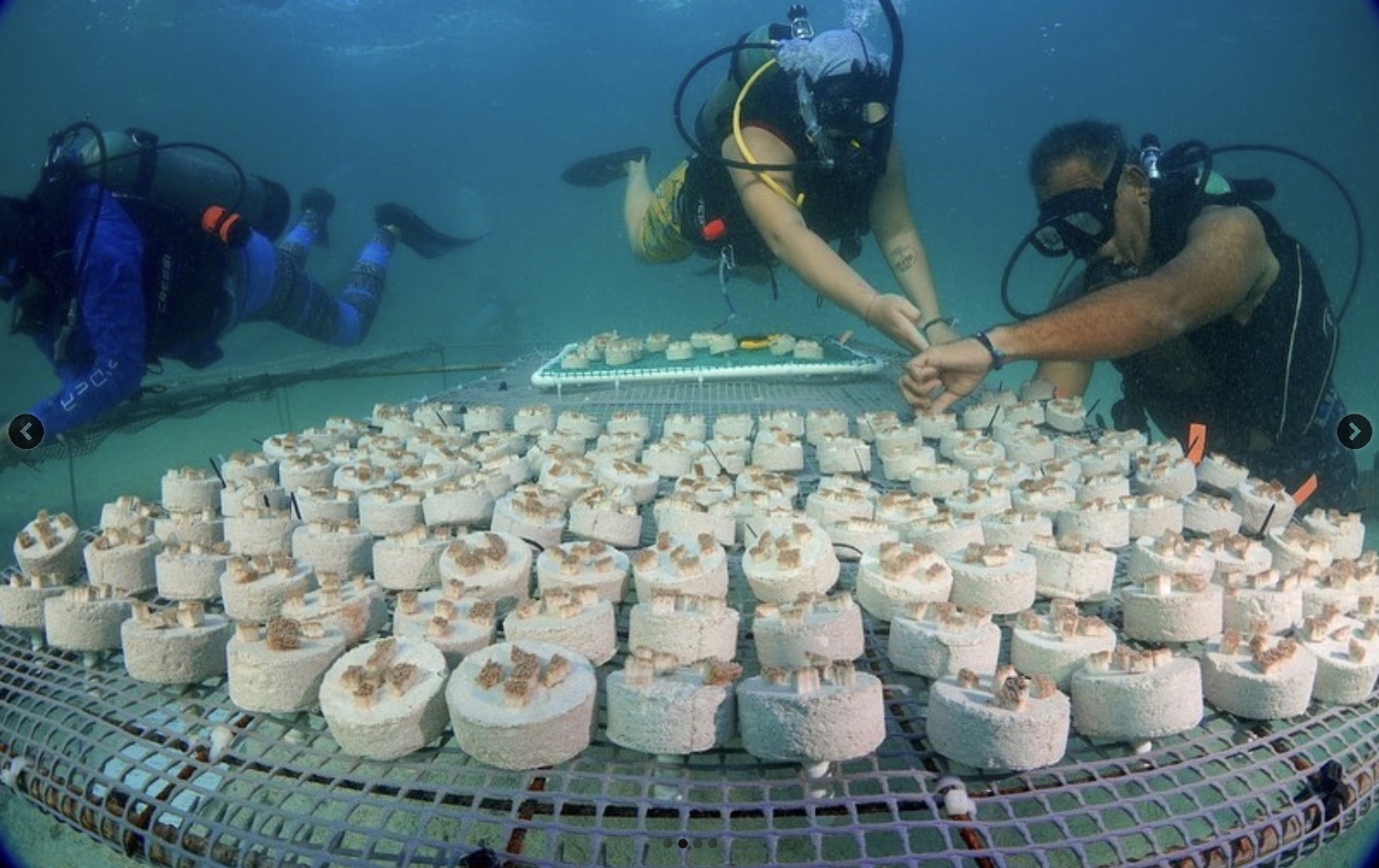 Supporting coral reproduction in the National Park at Corales del Rosario y San Bernardo in Colombia.
Coral reefs are some of the most biodiverse and most endangered ecosystems on our planet. Scientists estimate that most shallow coral reefs could be gone by 2050 – largely due to climate change-induced warming and acidifying waters. Experts and communities around the world are racing to help corals through restoration and spawning efforts.
Diving Planet in Cartagena, Colombia knows how important stewardship of our beautiful blue planet is. In the Islas del Rosario, where the shop does most of its diving, they've launched a new initiative to help coral reefs.
Coral spawning is the sexual reproduction of these incredible colonial animals. This age-old process, triggered by the moon and the tides, helped create the foundation of our modern coral reefs. In the modern day, with reef degradation, coral gametes sometimes have a harder time coming together to create baby corals. These then experience difficulties settling on the reef to grow into new corals. 
Diving Planet saw this and wanted to take action. Funding from a PADI AWARE Foundation Community Grant and help from local partners allowed them to do so. 
"The conservation of marine ecosystems in the world is essential; however, it is no longer enough," said Beatriz Ossa from the organization. "We have already crossed the limit."
"Now, as important as conservation and preservation is RESTORATION," she emphasized. "For this reason, at Diving Planet, we have undertaken the most ambitious coral restoration plan through the sexual reproduction of different species in the company of different national and international organizations."
In May 2022, Ossa and her team collected gamete bundles from the National Natural Park as corals spawned. They left some to float freely in the tides and collected others. In the controlled environment of their laboratory, the latter enjoyed a higher percentage of survival, the shop's Instagram notes. These coral babies grew and, in June, the team joined forces with other local organizations to produce 13,500 coral fragments. These are earmarked for restoration work in the Parque Nacional Natural Corales del Rosario.
This effort is "without precedent," a local newspaper reported. In addition to adding thousands of new "baby corals," the project has set its sights even higher; they hope to engage other organizations and diving centers in Colombia and the Caribbean region to join the initiative, Ossa said. 
Achieving this would create such a feeling of "Thankfulness!!" she added. "For all the sensations, emotions and unforgettable moments lived with our fellow divers around this wonderful underwater world."
Want to see more of Diving Planet, Colombia in action?
You can follow along with Diving Planet and their coral sexual reproduction initiative in the Parques Nacional Natural Corales Del Rosario y San Bernardo initiative on their website, Instagram, Facebook, or on https://www.padi.com/aware.