PADI's Pillars of Change
The structure of PADI's corporate ethos has evolved to support social and environmental efforts that impact key issues facing the dive industry and the entire planet. To be the best in the world, we must be the best for the world by helping to foster prosperity, growth and a sustainability mindset in dive communities around the world.
People + Community
The People and Community Pillar is the heart of PADI's mission: to teach the world to dive. In addition to providing more educational opportunities for people around the world to become PADI® Professionals, PADI aims to support PADI Members and local groups who are dedicated to exposing more people to diving, sustainability efforts and helping to build dive infrastructure that fosters local growth and prosperity.
---
Dive It Forward
Many PADI Members across the planet dive it forward every day and make it their deeper purpose to teach the world to care about the dive environment. For example:

Hj Syed Abd Rahman, PADI IDC Staff Instructor and founder of PADI Five Star Dive Center Kids Scuba Malaysia, has been educating youngsters, aged eight to teens, about scuba diving and the marine environment since 2004. He's seen what diving as a family in Malaysia can do to broaden knowledge and respect for the ocean. "Personally, when I'm looking at them it actually makes me want to do more in terms of informing other families and kids on how important educating the younger generation is as well as transcending into a deeper understanding of what marine conservation and marine environment is all about."

Minni Vangsgaard, PADI Course Director and owner of PADI Five Star CDC Crystal Divers, operates one-year scholarship programs with local Indonesians from Bali that result in a very high rate of participants working in the dive industry.

Ernst Van Der Poll, PADI Course Director, brought his not-for-profit company ConnectOcean to Costa Rica where he is building relationships and educating the local communities and schools about environmental conservation and sustainability. ConnectOcean is currently working on a project to restore damaged reefs and fish habitats by having local students design and build their own artificial reefs. The aim is to create a population that can live side-by-side with nature, neither damaging their futures nor that of the ocean.
Tre Packard and Akira Biondo of the PangeaSeed Foundation are PADI AmbassaDivers™ dedicated to harnessing the power of art, science and creativity to generate awareness and stimulate dialogue in communities around the world. Through their Sea Wall project, they collaborate with some of today's most renowned contemporary artists to create large-scale public murals that address pressing environmental issues the oceans are facing, forging a synthesis between public art, nature and society to drive positive change.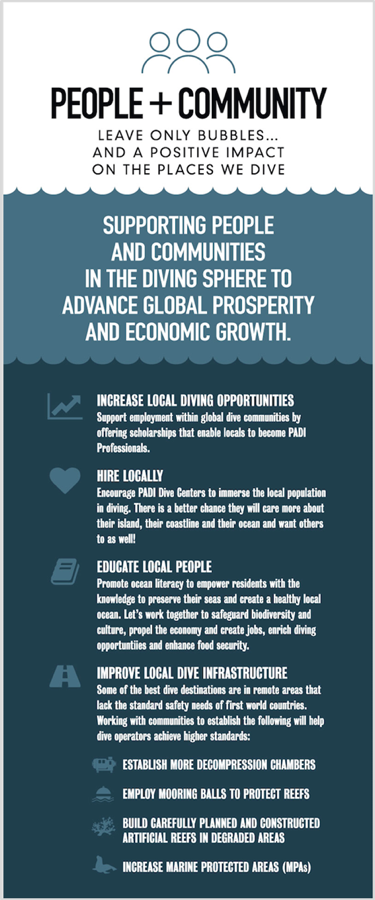 Making Waves
With 6,400 PADI Dive Centers and Resorts, 133,000 PADI Professionals and nearly 25 million divers around the world, the PADI network is a force for good with tremendous human potential to make an impact on critical social and environmental issues. PADI is dedicated to bringing the conversation to the forefront, and inspire actions that lead to a stronger global dive community and healthier ocean planet.

READ ABOUT CURRENT INITIATIVES AND DIVERS ACTIONS
---
Join the #padi4change Conversation
Share stories and photos about how you are making an impact and tag #padi4change.

FACEBOOK | INSTAGRAM | TWITTER
---
Learn more about PADI's other Pillars of Change.