PADI's Pillars of Change
Committed to safety through leading-edge diver education, PADI changes lives in deep and meaningful ways, uniting diver voices to speak for those that cannot – the fragile, threatened inhabitants of our oceans. To be the best in the world, we must be the best for the world by protecting the ocean planet we love.
Ocean Health
PADI® is committed to taking action and supporting global efforts to ensure healthy oceans. Under the framework of its Ocean Health Pillar, the PADI organization is forging partnerships with organizations that support the establishment of more marine protected areas (MPAs), the reduction of marine debris and plastic pollution, and the restoration and recovery of coral reefs.
---
Partners in Conservation
Project AWARE®
For more than 25 years, PADI has partnered with Project AWARE to mobilize divers across the globe to protect underwater environments. Focusing on the critical issues of shark and ray protection and marine debris, Project AWARE empowers thousands of divers in more than 182 countries to work together for a clean, healthy and abundant ocean planet

Get involved and improve ocean health with Project AWARE.
Make every dive a Dive Against Debris®. Remove marine debris from the ocean and report data on the types, quantities and locations of materials collected to help inform policy change. Download the Dive Against Debris App before your next dive!
Take the AWARE Dive Against Debris Specialty course. Gain insight into the impact marine debris has on ocean health and how you can use your dives to be part of the solution.
PADI Professionals are in a unique position to make a significant, positive impact on the health of the ocean. Share your passion using Project AWARE's programs designed for leaders in the dive community.
Learn more at projectaware.org.
---
Mission Blue
PADI has forged an alliance with Mission Blue with the goal to increase the level of protection of the ocean. Led by legendary oceanographer Dr. Sylvia Earle, Mission Blue inspires action to explore and protect the ocean. At the heart of this effort is a global campaign to build public support for the protection of Hope Spots — special places that are vital to the health of the ocean. They are about recognizing, empowering and supporting individuals and communities around the world in their efforts to protect the ocean.

Connecting PADI Divers and Professionals with the Hope Spots program provides actionable opportunities to have a lasting impact on the future of our blue planet. If governments, civilian organizations and communities work together to formally protect Hope Spots, these special marine environments can become the seeds of tomorrow's healthy ocean.

Learn more at mission-blue.org.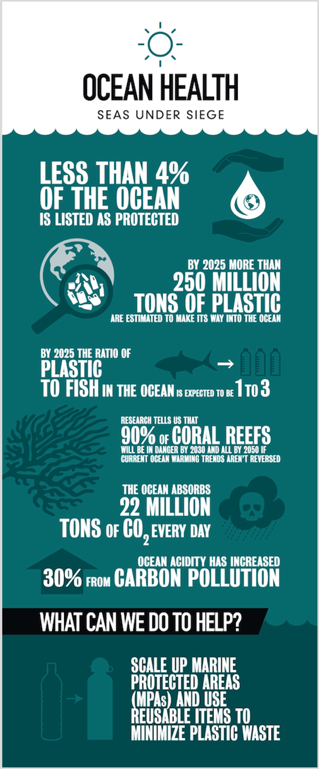 Making Waves
With 6,400 PADI Dive Centers and Resorts, 133,000 PADI Professionals and nearly 25 million divers around the world, the PADI network is a force for good with tremendous human potential to make an impact on critical social and environmental issues. PADI is dedicated to bringing the conversation to the forefront, and inspire actions that lead to a stronger global dive community and healthier ocean planet.

READ ABOUT CURRENT INITIATIVES AND DIVERS ACTIONS
---
Join the #padi4change Conversation
Share stories and photos about how you are making an impact and tag #padi4change.

FACEBOOK | INSTAGRAM | TWITTER
---
Learn more about PADI's other Pillars of Change